Congratulations to the Recipients of SBM's 2015 Achievement Awards
The Society of Behavioral Medicine (SBM) extends a warm congratulations to the following recipients of the society's 2015 achievement awards. Recipients are pictured below with SBM 2014-15 President Lisa M. Klesges, PhD. Recipients formally received their awards from Dr. Klesges on April 22, 2015, during SBM's 36th Annual Meeting & Scientific Sessions at the Marriott Rivercenter in San Antonio, TX.
SBM additionally congratulates new 2015 society fellows, who were also honored by Dr. Klesges during the Annual Meeting and are pictured with her below.
SBM would like to recognize the recipients of 2015 Special Interest Group (SIG) Awards as well. Recipients were honored during individual SIG meetings at the Annual Meeting, and their names are listed below.
Alere Research to Practice Award
Herbert H. Severson, PhD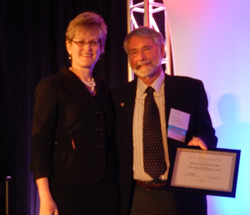 C. Tracy Orleans Distinguished Service Award
Claudio R. Nigg, PhD; Sherry L. Pagoto, PhD; Dawn K. Wilson, PhD; Laura L. Hayman, RN, PhD, FAAN; and Lila J. Finney Rutten, PhD, MPH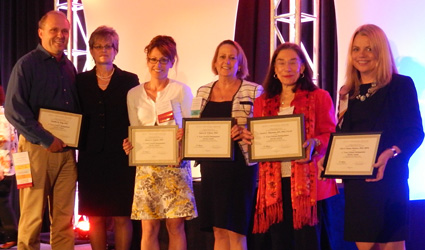 Distinguished Research Mentor Award
Lori Pbert, PhD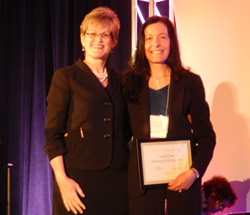 Distinguished Scientist Award
Colleen M. McBride, PhD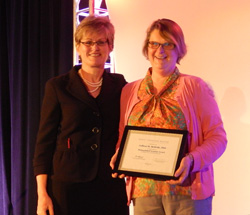 Distinguished Student Excellence in Research Award
Scherezade K. Mama, DrPH; and Danielle E. Schoffman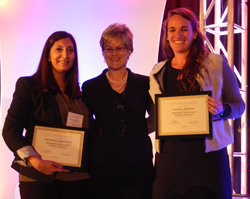 Distinguished Student Travel Scholarship
Melissa M. Crane, MA; Cassandra Lowe, MSc; and Sara N. Edmond, MA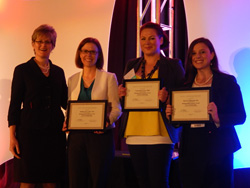 Early Career Investigator Award
George M. Slavich, PhD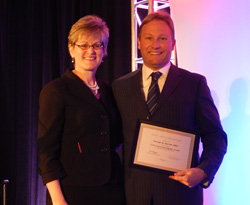 Jessie Gruman Award for Health Engagement
Michael G. Goldstein, MD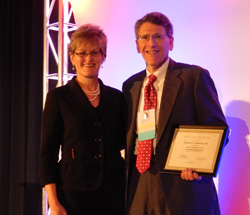 Outstanding Dissertation Award
Jessica K. Pepper, PhD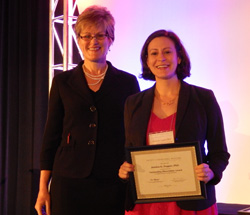 New 2015 Fellows
Jennifer L. Huberty, PhD; Youngmee Kim, PhD; and Alexander J. Rothman, PhD
(Not pictured: John P. Allegrante, PhD; and Joan S. Tucker, PhD)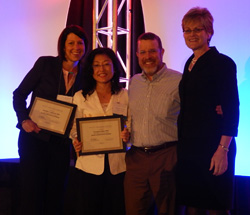 Special Interest Group (SIG) Awards
Aging SIG Local Innovator Award
Texercise
Aging SIG Student Award
Tiffany A. Bullard
Cancer SIG Outstanding Student Abstract Award
Daisy Le, MPH, MA
Cancer SIG SIGGIE Senior Investigator Award
Barbara L. Andersen, PhD
Child and Family Health SIG Award for Outstanding Research in Child and Family Health
Sharon D. Horner, PhD, RN, FAAN
Child and Family Health SIG Special Recognition for Service to Child and Family Health
Dianne S. Ward, EdD
Diabetes SIG Early Career Travel Award
Georica Gholson, PhD; and Lyndsay A. Nelson, PhD
Ethnic Minority and Multicultural Health SIG Trainee Award for Outstanding Oral Abstract Submission
Teresa M. Smith, PhD, MS
Ethnic Minority and Multicultural Health SIG Early Career Award for Outstanding Oral Abstract Submission
Laura A. Dwyer, PhD; Grant W. Farmer, PhD, MPH, MA; and Aasim I. Padela, MD, MSc, FACEP
Ethnic Minority and Multicultural Health SIG Mentoring Award for Dedication to Training and Mentoring of the Next Generation of Health Equity and Disparities Research Scientists
Cathy D. Meade, PhD, RN, FAAN
Evidence-Based Behavioral Medicine SIG Outstanding Student/Trainee Award in Evidence-Based Behavioral Medicine
Bradley James Kendall, MS, CSCS
Health Decision Making SIG Outstanding Trainee Abstract Award in Health Decision Making
Lisa Carter-Harris, PhD, APRN, NP-C
Military and Veterans' Health SIG Patricia H. Rosenberger Award for Outstanding Student/Fellow Abstract
Megan A. McVay, PhD
Physical Activity SIG Local Innovator Award
Estrella Hernandez
Physical Activity SIG Outstanding Student Abstract Award
Desmond McEwan, MSc
Student SIG Student Abstract Award
Stephen Ghazikhanian; and Jennifer L. Moss, MSPH
Student SIG Early Career Mentor Award
L. Alison Phillips, PhD
Student SIG Senior Mentor Award
Vanessa L. Malcarne, PhD