Diabetes SIG Provides Opportunities for Interdisciplinary Networking across the Career Trajectory
Barbara Stetson, PhD, Diabetes SIG chair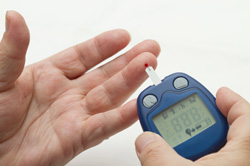 The rapid global escalation of diabetes has led to an urgent need to develop innovative ways to improve both diabetes management and prevention for global and diverse populations. The widespread presence of prediabetes and type 1 and type 2 diabetes across clinical and research settings now means that more and more health care professionals must understand current trends in biological, sociocultural, and individual influences on these developments and their roles in optimal intervention approaches.
The Society of Behavioral Medicine (SBM) Diabetes SIG is a forum for SBM members with an interest in the advancement of behavioral and psychological research and clinical care in diabetes. We aim to increase the presence of high-quality behavioral medicine research in diabetes at the SBM Annual Meeting. Interdisciplinary teams and behavioral scientists are particularly well-suited to examine optimal approaches to patient-centered delivery of health information and the role of individual and peer-based approaches to promotion of effective decision making, coping, and self-care.
The Diabetes SIG encourages interdisciplinary dialogue among researchers, clinicians, educators, and public health advocates to broaden our understanding of approaches to the prevention and treatment of diabetes and to increase submissions to the SBM Annual Meeting. We are comprised of SBM members from a variety of disciplines including psychology, primary care medicine, nephrology, nursing, exercise science, and public health, to name a few. With a current membership of about 240, we have numerous opportunities for networking, exchange of information and resources, and collaborations.
Many of members of SBM have multiple interests and may contemplate how to best affiliate with and invest in SIG activities. We invite SBM members with interests in the continuum of diabetes-whether prediabetes, newly diagnosed diabetes, or longstanding diabetes with comorbidities-to consider joining the Diabetes SIG as we plan our activities for the 2016 Annual Meeting in Washington, DC. If you would like to join the Diabetes SIG (or are not sure if you are officially a member) you may contact SBM's Erica Linc (elinc@sbm.org). If you are a member of the Diabetes SIG, you are automatically enrolled in the SIG's email listserv group.
We also strongly support professional networking and the training of young investigators and students interested in diabetes research. As we aim to provide mentoring and longevity in the SIG, students, fellows, and early careerists are welcomed and play an active role on our leadership team. We would like to congratulate our first Diabetes SIG member early career travel awardees this year: Georica Gholson for her presentation on ethnic differences in psychosocial factors, HbA1c, and BMI in adolescents with type 1 diabetes; and Lyndsay Nelson for her presentation on patient characteristics associated with engagement in a type 2 diabetes mhealth. This year we look forward to our upcoming Diabetes SIG activities with Barbara Stetson, PhD, taking on the role of SIG chair and Karl Minges, MPH, taking on the role of senior student chair. Robin Whittemore will be our new Annual Meeting coordinator. We will also have two student representatives: Allison Lewinski and Amanda Phillips. We would like to thank former Diabetes SIG Chair Caroline Richardson and Student SIG Chair Erin Olsen for their service and leadership as their PA SIG chair tenure comes to an end.
We look forward to your attendance at next year's Diabetes SIG events and business meeting!