Aging SIG Update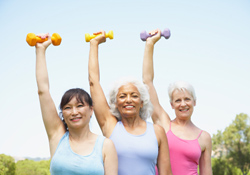 Jessica Krok, Aging SIG Outlook Liaison
Reginald Tucker-Seeley, ScD, Aging SIG Co-Chair
Sara Folta, Aging SIG Co-Chair
Greetings from the SBM Aging Special Interest Group (SIG)! We hope you had a good holiday season and are now gearing up for the 35th Annual Meeting of SBM. As you are preparing your schedule, we would like to highlight the Aging SIG student award and aging-related presentations that may of interest to members of SBM and for those that currently work with older adult populations or are interested in this exciting field.
Presentations at SBM by Aging SIG members
Posters
Doctoral candidate, Christina Moldovan, is presenting her research poster entitled "The Effects of Physical Activity, Education, and Spirituality on Premorbid Intelligence in Healthy Older Adults" during Poster Session B on April 24th from 6:40 to 8:00 PM.
Doctoral student, Susan Aguiņaga, MS, with her mentor, Dr. David Marquez, is presenting her research poster entitled, "Latin Dance and Health Education: Influence on Cognitive Function" during Poster Session C on April 25th from 6:25 to 7:45PM.
Elizabeth Gonzalez, PhD, is presenting her research entitled, "Appraisal of Problem Behaviors, Quality of Relationship and Role Strain in Family Caregivers" during Poster Session C on April 25th from 6:25 to 7:45PM.
Papers
A 3rd year BSc student, Louisia Starnino, is presenting her paper, "Psychological Vulnerability and Pathological Aging: Surprising Associations between Telomere Length and Psychological Burden." during Paper Session 16 - Stress and Health: Biobehavioral Mechanisms" from 3:45 to 5:15 PM
Awards at SBM
In addition to the outstanding research presentations at SBM, the Aging SIG offers the Outstanding Aging Research Award Graduate Student Poster Award. The award is available to student members of the Aging SIG conducting aging related research. This award is designed to stimulate the participation of students conducting aging-related research in SBM and to highlight this work within SBM.
If you are a graduate student conducting aging-related research, you are encouraged to apply for this award. The recipient will be recognized for their scientific contribution to the field of aging and behavioral medicine and will receive a monetary award of $150.00 and a plaque. A brief summary of the recipient's abstract for the 2014 Annual Meeting will also be featured in the Fall 2014 issue of the Aging SIG Newsletter. The submitted abstract can be a poster that was submitted (and accepted) for the SBM annual meeting. The selected student must attend the Aging SIG Business Meeting/Breakfast roundtable at the SBM Annual Meeting to present his/her poster.
Eligibility:
Be a current SBM student member;
attend the 35th Annual Meeting & Scientific Sessions of the Society of Behavioral Medicine in Philadelphia, PA;
attend the Aging SIG Breakfast Meeting at SBM Annual Meeting (see below)
be the primary (first) author on the abstract; and
currently conducting aging-related research.
must be a current graduate student.
Please note that the Aging SIG business meeting, in conjunction with the SBM Annual Meeting, will be on Friday 25 April 2014 from 7:30-8:30 AM (breakfast roundtable). We look forward to seeing you in Philadelphia!