SBM Building Meaningful Relationships with Other Organizations
Sherri Sheinfeld Gorin, PhD, Scientific and Professional Liaison Council chair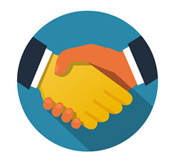 This winter, I've been delighted to share the aims and current activities of our productive Scientific and Professional Liaison Council (SPLC) with the Society of Behavioral Medicine (SBM) Board of Directors, the Special Interest Group (SIG) Council, as well as a number of our external partners.
As a reminder to our Outlook readers, the SPLC promotes linkages among SBM and external government agencies, academic organizations, and scientific and professional societies to advance behavioral medicine through research, practice, and policy. We work alongside SBM's SIGs, councils, and committees throughout the year not only to deepen ties with organizations that already have relationships with SBM, but to bring new perspectives and novel research to the Annual Meeting, expand professional networks for SBM members, and create new opportunities for inter-organizational collaboration. We welcome the opportunity to work with you.
Join the SPLC at SBM's 37th Annual Meeting & Scientific Sessions:
SPLC fosters other supportive relationships with scientific and professional societies:
At Obesity Week 2015, through the efforts of SPLC member Catherine (Katie) L. Davis, PhD, SBM co-sponsored a keynote lecture.The keynote lecture took place on Friday, November 6, 2015, in Los Angeles, CA.


At the Society for Medical Decision Making 37th Annual North American Meeting, Erika A. Waters, PhD, MPH, SPLC member, moderated a co-sponsored panel discussion entitled, What is a 'Good' Medical Decision? Perspectives from Multiple Stakeholders.


In collaboration with the SBM Health Policy Committee, SPLC members contributed to an SBM/ACSM joint position statement entitled, "Increase United States Health Plan Coverage for Exercise Programming in Community Mental Health Programs for People with Serious Mental Illness". With the ACSM, council members also co-authored a paper on "Integrating Physical Activity in Primary Care Practice."


At the 2016 American College of Sports Medicine (ACSM) Annual Meeting, taking place May 31-June 4 in Boston, MA, SPLC member David E. Goodrich, EdD, MS, MA; and SPLC guest Matt P. Buman, PhD, will be co-presenting an ACSM/SBM colloquium entitled, Exercise is Medicine: Models for Integrating Behavioral Strategies.
Special thanks to the hard-working members of the SPLC: Jennifer K. Carroll, MD, MPH; Martin D. Cheatle, PhD; Catherine L. Davis, PhD; David E. Goodrich, EdD, MS, MA; Paul B. Jacobsen, PhD; Sara J. Knight, PhD; Miho Tanaka, PhD, MPH; Erika A. Waters, PhD, MPH; Matt P. Buman, PhD (guest); Jeanne Erickson (guest), Amy Janke, PhD (guest); and Julie E. Volkman, PhD (guest).
As the important work of the SPLC continues to grow, I welcome your ideas and input! You can reach me at sherri.gorin@gmail.com.