CLASSIFIEDS
University of South Carolina College of Nursing Seeks SmartState Endowed Chair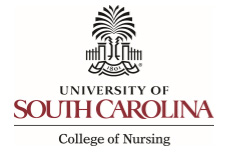 The University of South Carolina College of Nursing is seeking an outstanding leader for the position of South Carolina SmartState Endowed Chair in Clinical Effectiveness at rank of professor. The endowed chair will lead/expand development of clinical effectiveness and health care systems research at the university. The endowed chair position is part of an integrated state-wide SmartState Center for Clinical Effectiveness and Patient Safety (www.smartstatesc.org). The chair has significant institutional support and will have the opportunity to collaborate with other researchers in the established centers in the university and our partners.
Qualifications and Performance Expectations: Candidates must hold an earned doctorate in nursing or a related field and credentials consistent with the granting of tenure at the rank of professor. The endowed chair is expected to have a record of exemplary research relevant to clinical effectiveness, history of obtaining federal funding, demonstrated leadership with building and managing a significant research enterprise, commitment to excellence in teaching, and a vision that will position the college prominently at the national stage.
The following standards of performance are expected of the recipients of this endowed chair: continuing record of scholarly and creative endeavors; leadership in and across academic units and collaborations with scholars within as well as external to one's own university and clinical partners; pursuit of activities that enhance the reputation of the university; generation of additional private, governmental, foundation, and other external grants and funds; innovative leadership and mentoring of students and other faculty; attraction of high-quality students; and evidence of the ability to promote and develop "enhanced economic opportunities in knowledge-based industries for all South Carolinians."
The Carnegie Foundation recognizes The University of South Carolina as an institution with "very high research activity." The College of Nursing houses the Cancer Survivorship Research Center and the Healthcare Process and Redesign Research Center. Faculty research focuses on three priority areas: vulnerable populations, health promotion/risk reduction, and health systems.
Applicants should apply at the following address:
https://uscjobs.sc.edu/, Requisition #008382
http://www.sc.edu/study/colleges_schools/nursing/employment/smartstate_chair.php
Inquiries may be directed to:
DeAnne K. Hilfinger Messias,
PhD, RN, FAAN
University of South Carolina
College of Nursing
Columbia, SC 29208
Email: dkmessia@mailbox.sc.edu
Web: www.sc.edu/nursing
The University of South Carolina does not discriminate in educational or employment opportunities or decisions for qualified persons on the basis of race, color, religion, sex, national origin, age, disability, genetics, sexual orientation, or veteran status.