SBM Building Meaningful Relationships with Other Organizations
Sherri Sheinfeld Gorin, PhD, Scientific and Professional Liaison Council chair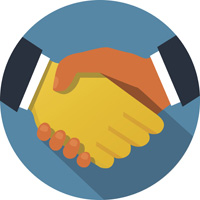 Scientific research is a collaborative endeavor, which is why many Society of Behavioral Medicine (SBM) members who make SBM their primary professional home also engage with other societies with missions that overlap with SBM's. This overlap offers rich opportunities for inter-organizational relationships, and SBM's Scientific and Professional Liaison Council (SPLC), chaired by Sherri Sheinfeld Gorin, PhD, is tasked with developing and mining these connections.
SPLC members are continuing to build liaisons that advance the science of behavioral medicine. These relationships aim to bring mutual benefits to SBM and other scientific and professional groups as follows.
They help plan and present co-sponsored sessions with other scientific and professional organizations at SBM's 2015 Annual Meeting:
SPLC fosters other supportive relationships with scientific and professional societies:
While building scientific and professional alliances has been the main focus of SPLC, and developing products (co-authored papers and presentations) from these liaisons is a recent emphasis, SBM is also stepping up its efforts toward influencing health policies. As a member of the newly established Health Policy Council, Dr. Sheinfeld Gorin and others are looking to secure endorsements of SBM policy briefs from other societies, which will open up new dissemination channels and heighten the briefs' impacts.
As the important work of SPLC continues to grow, Dr. Sheinfeld Gorin welcomes your ideas and input! You can reach her at sherri.gorin@gmail.com.