What Does SBM's New Digital Health Council Intend to Do?
Ellen Beckjord, PhD, MPH, Digital Health Council chair
In November 2013, the Society of Behavioral Medicine (SBM) Board engaged in a strategic planning exercise that led to several recommendations for how SBM can position itself as a society to thrive in the years ahead. One of those recommendations was that a new council be created—the Digital Health Council—with the intentions of helping to grow the body of digital health work being done by SBM members and to keep our society central to the fast-paced and evolving field of digital health.
The creation of the Digital Health Council was approved by the SBM Board's Executive Committee shortly after the 2014 Annual Meeting. Dr. Marian Fitzgibbon, current SBM president-elect, was asked to appoint a chair for the council to serve a three-year term. I was incredibly honored to be given the opportunity to be the inaugural chair; I am very excited about what we have planned and look forward to input from any member of SBM.
So just what does the Digital Health Council intend to do? The Digital Health Council is responsible for identifying and pursuing opportunities, partnerships, and endeavors that strategically position SBM and its members to be leaders in the field of digital health. Members of the Digital Health Council are committed to working in collaboration with SBM leaders and members on efforts intended to advance digital health research and practice in the service of improving individual and population health. Members of the Digital Health Council are also committed to showcasing and supporting the scientific work done in digital health by SBM members, with the assertion that this scientific work is a unique asset of our society and critical to the optimization of digital health solutions. The four pillars of our mission—connect, inform, educate, and advance—are shown in the figure below.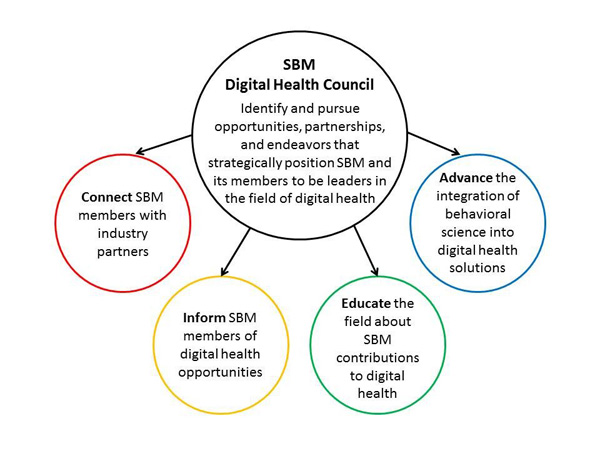 The council is still very much getting started. I have appointed some core members—including Drs. Brad Hesse, David Ahern, and Eric Hekler—but we are actively looking for additional members who want to join. If you are interested in joining us, please send me an email (beckjorde@upmc.edu) with your CV and a few thoughts about where you feel you're best positioned to make a contribution to one or more of the pillars of our mission.
So far, the council made a presentation about the technology-focused research being done by SBM members and the Digital Health Council at the 2014 American Medical Informatics Association (AMIA) annual meeting in November 2014. We have connected with SBM's Scientific and Professional Liaison Council to determine how we can best support their ongoing work to partner with AMIA and other professional societies and industry representatives. We are building on the work of Dr. Heckler to secure a more robust technology industry vendor presence at our 2015 Annual Meeting. And we intend to support an SBM TechTalk in collaboration with the Technology SIG in the months ahead. Additionally, we are working to establish and grow our social media presence.
I look forward to seeing you at the Annual Meeting. Please contact me if you'd like to learn more about the Digital Health Council. I would love to hear your ideas about how we can best serve SBM, and would welcome the chance to partner with you in our mission.