Annual Meeting Early Bird Registration Deadline Is Coming Up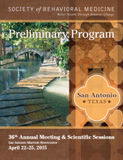 The Society of Behavioral Medicine's (SBM) 2015 Annual Meeting, being held April 22-25 in San Antonio, TX, is rapidly approaching. Register before March 24 to pay a discounted "early bird" registration rate.
Sign Up for Pre-Conference Sessions
Workshops, courses, and seminars offered during the meeting's pre-conference days will enhance your overall meeting experience. Sign up for pre-conference sessions on your registration form or, if you've already registered, call the national office at (414) 918-3156 to add pre-conference sessions to your registration. The following pre-conference sessions are being offered.
Workshops
New Approaches to Preventing and Treating Obesity: Key Findings and "Lessons Learned" from the Obesity-Related Behavioral Intervention Trials (ORBIT) Consortium
Courses
Designing Digital Health Interventions: A Workshop on How to Create Usable, Enjoyable, and Effective Digital Health User Experiences
Nuts and Bolts of Comparative Effectiveness Research and Patient-Centered Outcomes Research Institute (PCORI) Grant Proposal Writing
Translating Clinical Guidelines and Evidence-Based Medicine Using Implementation and Dissemination Science
Mock Grant Review
Promoting Health Equity through Dissemination and Implementation Research
Using Evidence to Promote Advocacy: Strategies for Engaging in Practice and Policy Change in Behavioral Medicine
What are Social Network Methods and Analyses? How You Can Use Them in your Research
What is a "Good" Medical Decision? Perspectives from Multiple Stakeholders
Seminars
NIH mHealth Training Institute
NIH Grant-Writing Workshop
Behavioral Self-Management of Recurrent Headache: Implications for Clinical Practice
Advancing the State of the Science for Evaluating the Behavioral Health Effects of Laws
Design and Analytic Approaches to Improving the Internal Validity of Non-Randomized Studies
Retention Strategies for Randomized Trials: State of the Science, Innovation, and Implementation
Bibliotherapy: Healing One Text at a Time
Issues in Design and Conduct of Randomized Behavioral Clinical Trials
How to Write a Successful NIH Career Development (K) and NRSA Fellowship (F) Award
Behavioral Sleep Medicine from Research to Practice
Book Your Hotel Accommodations
Rooms are filling up quickly at the San Antonio Marriott Rivercenter, where the Annual Meeting's sessions are being held. Room reservations at the special meeting rate can be made now through the March 29 housing deadline or until the SBM block of rooms is filled, whichever comes first. Hotel rooms may be available after the housing deadline but not at the special conference rate. You'll want to book early because the Annual Meeting coincides with Fiesta San Antonio, an annual citywide festival. While Fiesta San Antonio is sure to keep you entertained, it means hotel rooms are likely to fill up as the festival—and the Annual Meeting—draw near.
Preliminary Program Available Online
Browse the Preliminary Program and plan out the sessions you'd like to attend. Meeting attendees will again be able to personalize their itineraries using the Annual Meeting mobile app, which will hit app stores in late March.
Connect with SBM Online
Prior to the meeting, don't forget to connect with your SBM colleagues on the society's LinkedIn group page. The page features discussions about career paths, reimbursement strategies, science bashing in the media, and much more. LinkedIn also features discussions about posts on the SBMConnect blog. SBMConnect draws members' attention to ever-changing—and sometimes controversial—issues and news items. Each post briefly explains an issue and is accompanied by a poll to get a sense of where SBM members stand on the topic.