Student SIG Plans Annual Meeting Events on Internships, Mentoring, and Getting Published
Ann Blair Kennedy, LMT, MA, DrPH(c), Student SIG Outlook liaison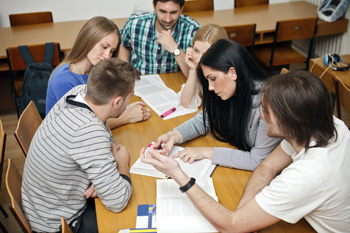 The Society of Behavioral Medicine's (SBM) Student Special Interest Group (SIG) is sponsoring some excellent events at this year's SBM Annual Meeting, including three sponsored events and a social happy hour as well as two new co-sponsored events.
Thursday Events
Breakfast Roundtable: Postdoc (To Do or Not To Do, and How to Make the Most of It)
Hear a variety of panelists share experiences and advice on whether or not to do a postdoc and how to make the most of it.
Midday Meeting: Internship Meet and Greet
Attend an informal and interactive meet-and-greet with representatives and/or current interns from several psychology internship sites that provide specialized training in behavioral medicine. Come prepared to network, learn about site-specific training opportunities, and get your questions answered.
Midday Meeting: Meet and Greet for Student and Faculty Clinical Researchers in Obesity
The purpose of this midday meeting is to provide the opportunity for students interested in obesity clinical research to meet and mingle with mid-career and senior-level researchers in the obesity field. (Co-sponsored with the Obesity and Eating Disorders SIG.)
Evening: Social at Hotel Bar
Friday Events
Breakfast Roundtable: Student and Postdoc Mentored Breakfast
Small groups of students and postdocs will each be paired with a senior-level investigator who will offer practical advice on how to be a successful behavioral medicine researcher. (Co-sponsored with the Multiple Health Behavior Change SIG.)
Midday Meeting: Class Paper to Pub
Geared toward graduate students pursuing a research-focused education and career, this panel will provide guidance on crafting papers written for courses into manuscripts for publication.
Other SIG Updates
San Antonio, where the Annual Meeting is being held, is a fantastic place, with rich history, great sightseeing, and delicious food. Pack your boots and prepare for a great time in the Lone Star State from April 22-25. Have you heard that students who volunteer at the meeting can have their early bird meeting fees reimbursed? For more information check out this link: https://www.sbm.org/meetings/2015/call-for-student-volunteers.
And, while the Annual Meeting is exciting, have you checked out some of the other Student SIG resources? The Facebook page has taken off since last year. Please like the page and share it with your friends; this is a great way to stay connected with other members of the SIG. Also, the Google spreadsheet is another resource created by Student SIG leadership. If you haven't filled in your information, please do so; it is a great resource for future collaborations. Reach out and get to know the rest of your SIG. We all know (well, hopefully we all know) that social support can help with stress and can improve health. Let this group provide an avenue to better health and wellness for you.