Technology SIG Advancing Behavioral Medicine through Technology-Enabled Methods and Partnerships
Eric B. Hekler, PhD, and David K. Ahern, PhD, Technology SIG co-chairs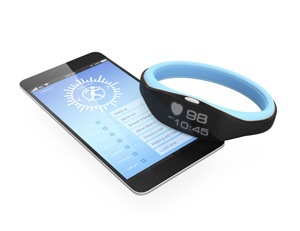 The Society of Behavioral Medicine (SBM) Technology Special Interest Group (SIG) is working hard to advance behavioral medicine by supporting new methods and partnerships that are enabled by new and emerging digital health technologies. As part of this, the SIG last year provided support (you might have noticed our yellow buttons asking about digital future) of an idea that grew out of strategic planning for SBM: namely the creation of a SBM Digital Health Council. This council was recently approved by the SBM Board and is described in greater detail in a separate Outlook article by Ellen Beckjord, PhD, MPH, Digital Health Council chair. The Tech SIG is excited to support this council as it further helps to guide SBM on how best to use new and emerging technologies to support the society and its mission.
Beyond this development, the Tech SIG membership will lead several papers, panels, and symposium focused on technology-enabled methods at SBM's 2015 Annual Meeting. For example, Heather Cole-Lewis, PhD, MPH, MA, will present a paper on the use of a mixture of computational methods (e.g., social network analysis, natural language processes) to examine interpersonal interactions in a smoking cessation Facebook community group ("Using Computational Methods to Assess Interpersonal Interactions in a Smoking Cessation Facebook Community"). In the same paper session, Dr. Beckjord will discuss the preliminary evaluation of a just-in-time adaptive intervention to support smoking cessation ("Testing a Context-Aware, Evidence Based, Just-In-Time Adaptive Intervention for Smoking Cessation"). There will also be several panel discussions related to advancing methods in behavioral science such as one led by Richard Moser, PhD, focused on strategies for accessing and analyzing non-traditional data streams such as wearable sensors (Accessing and Analyzing Non-Traditional Data: Challenges, Considerations, and Funding Opportunities) and a panel discussion organized by Eric Hekler, PhD, on advanced methods for supporting adaptive interventions (How Do We Adapt? A Discussion on Methods for Adapting mHealth Physical Activity Interventions). Beyond these topics, the Tech SIG is also continuing its support of Susan Michie, PhD, and others from the Theories and Techniques of Behavior Change Interventions in the development of a behavioral ontology to help better organize our scientific knowledge (Organizing with Ontologies! A Panel Discussion on How Ontologies can Support Behavioral Science). Finally, Tech SIG member Lisa Cadmus-Bertram, PhD, will lead a panel discussion on the use of commercial wearable sensors in intervention research (Integration of Direct-to-Consumer Trackers into Physical Activity Interventions).
Beyond methods, the Tech SIG has also been actively working toward enabling better partnerships both with other academic disciplines and with industry. David Ahern, PhD, has been actively working to facilitate a partnership between SBM and the American Medical Informatics Association (AMIA). As part of this, Dr. Ahern and other Tech SIG members highlighted the work of SBM members at the annual AMIA meeting in November 2014. At the SBM meeting, Wendy Nilsen, PhD, will lead a symposium highlighting the work of our engineering and computer science colleagues that supports advancements in behavioral science (Engineering Behavior: Engineering and Computer Science Work that Facilitate Better mHealth Research). Further, the Tech SIG will hold a panel discussion about conducting behavioral science within an industry setting (Infiltrating Industry: A Panel Discussion of Behavioral Science Research within Industry). Finally, the Tech SIG will also hold a workshop—which will be led by human-computer interaction experts Predrag Klasnja, PhD, and Erika Poole, PhD, as well as by David Klein, MBA, vice president of product and strategy at Vignet Corp.—focused on teaching fundamentals of user-centered design (Designing Digital Health Interventions: A Workshop on How to Create Usable, Enjoyable, and Effective Digital Health User Experiences). User-centered design methods are valuable in helping ensure a system is usable and enjoyable for target audiences, and thus of value for any researcher interested in improving adherence to the use of their intervention.
To learn more about all of the great things happening with the Tech SIG, please join the SBM Tech Madness breakfast roundtable on April 23 at the Annual Meeting. We will have lightning-speed previews of all of the technology-related talks that will be occurring at the meeting. We look forward to seeing you there!