President's Message: SBM Is Working for You
February 2015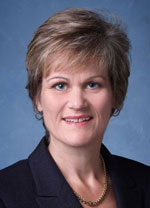 Our purpose as a society is to help you—the member—by advancing your career, your behavioral medicine interests, and the impact of the health research you hold dear. Throughout my presidency, I have sought to consider your interests and I know other SBM leaders put you first as well. Here are just a few of the ways we're focusing on you right now
Advancing Your Interests on Capitol Hill
On behalf of the larger SBM membership, eight other SBM leaders and I spent a Monday in November visiting 14 U.S. senators' offices in Washington, DC. We met with Republicans and Democrats alike. We targeted senators who serve on the Senate's Health, Education, Labor, and Pensions Committee or who are part of an unofficial "prevention coalition." We told their health policy aides about the critical need for more prevention and research dollars, and we advocated for more National Institutes of Health (NIH) funding. We also told them that SBM—and its members—can provide the insight and research needed to pass legislation that improves public health and health care delivery.
Giving You a Forum on LinkedIn
Membership in SBM's LinkedIn group has increased by more than 175% in the last four months. The group hosts discussions on issues like empathy in health care, threats to prevention research, and reimbursement strategies. Group members can also post their own discussion items to get input from others working in behavioral medicine. Please consider joining the group today, and make sure you're not missing out on the conversation.
Engaging Annual Meeting Speakers to Help You Improve Community Health
The keynote speakers joining us for SBM's 2015 Annual Meeting all strive to improve population health, and they'll show how you can do the same.
Raymond J. Baxter, PhD, Kaiser Permanente's senior vice president for community benefit, research, and health policy, will share success stories of helping workforces, families, and communities achieve total health. He will detail how Kaiser's services and the promotion of clinical, educational, environmental, and social actions can improve the health of all people.
Carol R. Naughton, JD, senior vice president of Purpose Built Communities, will discuss strategies for transforming struggling neighborhoods into vibrant, sustainable communities. Her nonprofit works with local leaders—at no charge—to bring together the vital components necessary for holistic neighborhood revitalization: high-quality, mixed-income housing; an effective cradle-to-college education pipeline; and comprehensive community wellness resources.
Amelie G. Ramirez, DrPH, from the University of Texas Health Science Center at San Antonio, will lead a panel discussion focused on local, regional, and national solutions for the problem of obesity. The need for recognizing and disseminating successful community-based programs for obesity prevention is as acute as ever and this panel will bring together experts who have developed and implemented innovative obesity prevention strategies within the communities they serve.
I hope to see you at SBM 2015!
All my best,




Lisa M. Klesges, PhD
President
Society of Behavioral Medicine