Child & Family Health SIG Update
By Bernard Fuemmeler, PhD, MPH, Child & Family Health SIG Chair-Elect; and Kenneth P. Tercyak, PhD, Child & Family Health SIG Chair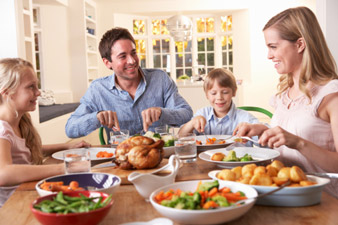 "At last the mighty task is done" is the first line of Joseph Strauss's poem that he wrote upon completion of the Golden Gate Bridge in 1937. Although the task of building it was complete, the bridge's usefulness in joining lands separated by the strait remains to this day. Bridges are our great connectors - allowing commerce and communication to more easily be established.
While not as monumental as construction of the Golden Gate Bridge, the formidable task of establishing the Child & Family Health (CFH) SIG is now well behind us. As an interdisciplinary forum for members of SBM concerned with the health and well-being of children, adolescents and families, we are involved in the conduct of research and provision of services to promote child health and development, prevent childhood illness and injury and foster family adjustment to chronic illnesses and other physical conditions of childhood.
We envision the future of the CFH SIG as a bridge of sorts - connecting those interested in pediatric and family health to the broader SBM agenda, as well as introducing and reminding those interested in adult chronic disease management about the importance of the developmental origins of health and healthy lifestyle adoption at early stages. Toward that end, we are strengthening relationships with organizations with similar missions, including Division 54 of the American Psychological Association (Society of Pediatric Psychology; SPP), and are pleased to announce that we have renewed our intersociety networking initiative with SPP. As part of this initiative, we have chosen to focus our initial efforts on three main actions. First, we will cross-post conference announcements on our respective listservs, along with other relevant announcements (such as calls for papers to special journal issues). Second, we are publishing this informational article in both SPP and SBM outlets to make our members aware of the initiative. Finally, we hope to increase member-initiated programming at our respective annual meetings that are of greater interest to both societies. Of note, SPP's National Conference in Pediatric Psychology takes place April 11th-13th, 2013 in New Orleans.
With the SBM 2013 annual meeting in San Francisco drawing near, we look forward to rekindling old connections and building new ones. Indeed, there is a lot to look forward to. There will be several presentations that have a CFH focus, and we hope you will visit each of them. We'd like to highlight four symposia in particular: 1) R and Resilience Factors During the Transition to Emerging Adulthood Among Youth with Type 1 Diabetes (3/22 8:45 am); 2) Supporting and Facilitating Chronic Disease Management: Lessons Learned from Diabetes (3/21 8:45 am); 3) Innovative Approaches to Oral Health in Children (3/22 2 pm); and 4) Mobile and Web-Based Serious Games for Behavior Change in Child and Adolescent Populations (3/21 2 pm). These promise to be informative opportunities to learn about cutting-edge research in our field.
Also, please join us for our SIG's mid-day business meeting and social event on Thursday, March 21st from 11:45 am-12:45 pm in room Continental 7. The CFH SIG Student Award and the Award for Outstanding Research in Child and Family Health will be presented, highlighting examples of excellence in research conducted by those in our field. We thank Dr. Pam Behrman for spearheading the awards process again this year. At the meeting, our SIG will be hosting Dr. Marian Fitzgibbon from the University of Illinois at Chicago to deliver our annual invited address. The CFH midday meeting promises to be an exciting opportunity to network and catch up on the latest happenings of the SIG. We welcome all who are interested, so please join us!
The CFH SIG is growing fast and we welcome input from SBM members about ideas and opportunities that could advance our mission. If you are interested in becoming a member of the SIG, please contact Ben Stumpf, Program Manager for the Society of Behavioral Medicine at bstumpf@sbm.org. SIG members are also welcome to submit ideas and suggestions for SIG-related activities through our listserv: childfamily_sig@list.sbm.org. For more information, check us out online. Also, please feel free to contact our Chair-Elect, Dr. Bernard Fuemmeler (bernard.fuemmeler@duke.edu) for additional information and if you are interested in becoming more involved in the SIG.