The Mama Move Project: Increasing Physical Activity in new mothers by encouraging Moms to actively exercise with their infant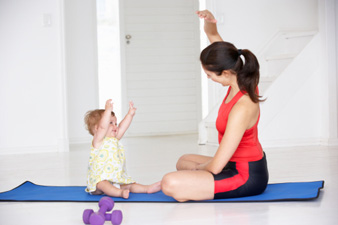 Becoming a mother is a significant transition in a woman's life accompanied by changes in social, cultural, economic, and family factors that can change a woman's priorities with respect to her health behaviors. Up to one-year postpartum, 57% of women are sedentary/underactive, reporting they rarely or never exercise and studies demonstrate women with children are more inactive than their same age/gender peers without children.1-4 Several studies have documented significant changes in health behaviors, including physical activity and sedentary habits, during the postpartum period.5-9 Ethnic disparities in physical activity reductions following childbirth, particularly moderate-to-vigorous physical activity (MVPA), have also been found.10-12 Changes in health promoting behaviors place this vulnerable population at risk for weight gain/retaining weight gained during pregnancy, and developing or exacerbating chronic health conditions such as postpartum depression, hypertension, obesity, and diabetes.2,5,13-17 Recent studies have tested the effectiveness of theoretically-derived physical activity interventions to modify a range of health outcomes in postpartum women including: MVPA, caloric intake/healthy diet, weight loss, chronic disease risk factors (metabolic syndrome), general well-being, sleep, infant care, and postpartum depression.18-29
Two SBM fellows (Drs. Cheryl Albright and Andrea Dunn) are collaborating on a new, innovative research project designed to find out how new moms like using exercise videos (e.g., yoga, cardio, strengthening) to be active while also playing with their baby - in the comfort of their own home. The project is called Mama Move and it is recruiting almost 600 women nationwide to test out exercise videos for 3 months. All videos are designed so new moms actively exercise with their infant. There are no costs to the mom; Mama Move is an entirely free program. Eligible mothers must be: 18-45 years old, in good health, not currently exercising more than 30 minutes a week, interested in using a new form of technology to exercise; babies must be 2-8 months old and between 11 and 22 pounds and healthy. If you want to join the project or know someone who might be interested, please visit Mama Move. For additional information, please contact Dr. Cheryl Albright at cherylal@hawaii.edu.
References
Albright CL, Maddock JE, Nigg CR. Physical activity before pregnancy and following childbirth in a multiethnic sample of healthy women. Women and Health. 2005;42(3):95-110.
Brown WJ, Trost SG. Life transitions and changing physical activity patterns in young women. American Journal of Preventive Medicine. Aug 2003;25(2):140-143.
Brown WJ, Heesch KC, Miller YD. Life events and changing physical activity patterns in women at different life stages. Ann Behav Med. Jun 2009;37(3):294-305.
Engberg E, Alen M, Kukkonen-Harjula K, Peltonen JE, Tikkanen HO, Pekkarinen H. Life events and change in leisure time physical activity: a systematic review. Sports Med. May 1 2012;42(5):433-447.
Olson CM, Strawderman MS, Hinton PS, Pearson TA. Gestational weight gain and postpartum behaviors associated with weight change from early pregnancy to 1 y postpartum. International Journal of Obesity and Related Metabolic Disorders. Jan 2003;27(1):117-127.
Haas JS, Jackson RA, Fuentes-Afflick E, et al. Changes in the health status of women during and after pregnancy. J Gen Intern Med. Jan 2005;20(1):45-51.
Borodulin K, Evenson KR, Herring AH. Physical activity patterns during pregnancy through postpartum. BMC Womens Health. 2009;9:32.
Durham HA, Morey MC, Lovelady CA, Namenek Brouwer RJ, Krause KM, Ostbye T. Postpartum physical activity in overweight and obese women. J Phys Act Health. Sep 2011;8(7):988-993.
Evenson KR, Herring AH, Wen F. Self-Reported and objectively measured physical activity among a cohort of postpartum women: the PIN Postpartum Study. J Phys Act Health. Jan 2012;9(1):5-20.
Boardley DJ, Sargent RG, Coker AL, Hussey JR, Sharpe PA. The relationship between diet, activity, and other factors, and postpartum weight change by race. Obstet Gynecol. Nov 1995;86(5):834-838.
Walker L, Freeland-Graves JH, Milani T, et al. Weight and behavioral and psychosocial factors among ethnically diverse, low-income women after childbirth: II. Trends and correlates. Women Health. 2004;40(2):19-34.
Walker LO, Sterling BS, Latimer L, Kim SH, Garcia AA, Fowles ER. Ethnic-specific weight-loss interventions for low-income postpartum women: findings and lessons. West J Nurs Res. Aug 2012;34(5):654-676.
Downs DS, DiNallo JM, Kirner TL. Determinants of pregnancy and postpartum depression: prospective influences of depressive symptoms, body image satisfaction, and exercise behavior. Ann Behav Med. Aug 2008;36(1):54-63.
Fowles ER, Cheng HR, Mills S. Postpartum health promotion interventions: a systematic review. Nurs Res. Jul-Aug 2012;61(4):269-282.
Gould Rothberg BE, Magriples U, Kershaw TS, Rising SS, Ickovics JR. Gestational weight gain and subsequent postpartum weight loss among young, low-income, ethnic minority women. Am J Obstet Gynecol. Jan 2011;204(1):52 e51-11.
Walker LO, Fowles ER, Sterling BS. The distribution of weight-related risks among low-income women during the first postpartum year. J Obstet Gynecol Neonatal Nurs. 2011;40(2):198-205.
Metzger BE. Long-term outcomes in mothers diagnosed with gestational diabetes mellitus and their offspring. Clin Obstet Gynecol. Dec 2007;50(4):972-979.
Fahrenwald NL, Atwood JR, Walker SN, Johnson DR, Berg K. A randomized pilot test of "Moms on the Move": a physical activity intervention for WIC mothers. Annals of Behavioral Medicine. Apr 2004;27(2):82-90.
Ostbye T, Krause KM, Lovelady CA, et al. Active Mothers Postpartum: a randomized controlled weight-loss intervention trial. American Journal of Preventive Medicine. Sep 2009;37(3):173-180.
Chang MW, Nitzke S, Brown R. Design and outcomes of a Mothers In Motion behavioral intervention pilot study. J Nutr Educ Behav. May-Jun 2010;42(3 Suppl):S11-21.
Fjeldsoe BS, Miller YD, Marshall AL. MobileMums: a randomized controlled trial of an SMS-based physical activity intervention. Ann Behav Med. May 2010;39(2):101-111.
Lewis BA, Martinson BC, Sherwood NE, Avery MD. A pilot study evaluating a telephone-based exercise intervention for pregnant and postpartum women. J Midwifery Womens Health. Mar-Apr 2011;56(2):127-131.
Davenport MH, Giroux I, Sopper MM, Mottola MF. Postpartum exercise regardless of intensity improves chronic disease risk factors. Med Sci Sports Exerc. Jun 2011;43(6):951-958.
Taveras EM, Blackburn K, Gillman MW, et al. First steps for mommy and me: a pilot intervention to improve nutrition and physical activity behaviors of postpartum mothers and their infants. Matern Child Health J. Nov 2011;15(8):1217-1227.
Surkan PJ, Gottlieb BR, McCormick MC, Hunt A, Peterson KE. Impact of a health promotion intervention on maternal depressive symptoms at 15 months postpartum. Matern Child Health J. Jan 2012;16(1):139-148.
McIntyre HD, Peacock A, Miller YD, Koh D, Marshall AL. Pilot study of an individualised early postpartum intervention to increase physical activity in women with previous gestational diabetes. Int J Endocrinol. 2012;2012:892019.
Da Costa D, Lowensteyn I, Abrahamowicz M, et al. A randomized clinical trial of exercise to alleviate postpartum depressed mood. J Psychosom Obstet Gynaecol. Sep 2009;30(3):191-200.
Dritsa M, Dupuis G, Lowensteyn I, Da Costa D. Effects of home-based exercise on fatigue in postpartum depressed women: who is more likely to benefit and why? J Psychosom Res. Aug 2009;67(2):159-163.
Albright CL, Steffen AD, Novotny R, et al. Baseline results from Hawaii's Na Mikimiki Project: a physical activity intervention tailored to multiethnic postpartum women. Women Health. 2012;52(3):265-291.