Aging SIG Update
Sarah Brannon, Aging SIG Liaison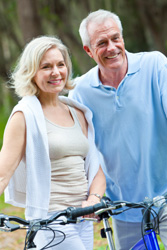 The process of "healthy aging" begins well before one is truly old. The effects of individual behavior, community and environment on health may accrue across the lifespan to produce cumulative effects with significant impact on the health of older adults. The Aging SIG is therefore interested both in promoting lifelong healthful behaviors that protect health and prevent age-related decline, and in intervening with older adults to deal with illness, disability, and quality of life.
As the first of the baby boomers reached age 65 in 2011, it was a year to emphasize the importance of continuing to grow in our understanding of the needs of older adults. Vocal, influential, and numerous, the baby boomers will shape healthcare policy, research and service provision for many years to come. How shall we respond to the challenges of the aging population? The two new Co-Chairs for the Aging SIG, Drs. Patricia Heyn and Katherine Morris Hall, took the initiative to conduct a 2011 survey of the members of the Aging SIG to better understand the background, interests, and professional development needs of SIG members. The survey revealed that the Aging SIG is a diverse, multidisciplinary group, with members from fields such as psychology, kinesiology, nursing, and public health, and with interests that include cancer prevention, physical activity, cardiovascular health, cognition, sexual health, health disparities, and primary care. Members reported that they value the networking, information, job postings, continuing education and career enhancement opportunities provided by the Aging SIG. The SIG continues to attract SBM members, with 20% of survey respondents indicating they were new SIG members. The survey also provided useful ideas for future SIG activities, including symposia at the upcoming annual meeting.
The 2012 SBM annual meeting in New Orleans will host some exciting Aging SIG events. These should provide excellent opportunities for new perspectives and new partnerships to emerge. An Aging SIG midday meeting (Thursday, April 12, 11:45am-12:45pm - Grand Saloon 3, 1st floor) will discuss the Challenges to Research Involving Older Adults. In this session, clinical and academic researchers with expertise in research with older adults will present on the challenges and opportunities unique to working with older adults. The Breakfast Roundtable (Friday, April 13, 7:30am-8:30am - Grand Saloon 6, 1st floor) will serve as both a structured networking session and the Aging SIG's formal business meeting. The annual student research award will also be presented at this time. The Aging SIG would also like to highlight the symposium on Increasing Physical Activity in Older Adults Through Dissemination Research (Symposium 8, Thursday April 12th, 8:45 - 10:15am) at the Annual Meeting. Chaired by Barbara Resnick, PhD, CRNP, University of Maryland School of Nursing, Baltimore, MD, this symposium will be highly relevant to those interested in behavior change, physical activity and healthy aging.
All SBM members who are interested in healthy aging are encouraged to join the Aging SIG and become active contributors to the Aging SIG listserv - a forum to share ideas, questions, research, job opportunities and more. To join the SIG or to be added or removed from a listserv, contact the Listserv Administrator, Ben Stumpf at bstumpf@sbm.org.