Development: Expanded Opportunities to Support SBM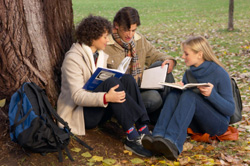 If you've registered for the 2012 Annual Meeting or renewed your membership you might have noticed a "giving" opportunity. Each and every year, generous members provide "extra" support to SBM and that support - above and beyond dues and meeting registration fees - allows the Society to deliver and expand services.
The Advocacy and Membership Development Campaign
The Advocacy and Membership Development Campaign (AMDC) supports travel to the Annual Meeting for recipients of the SBM Distinguished Student Achievement Awards. These awards comprise the Excellence in Research, Excellence in Service Delivery and Outstanding Dissertation. The AMDC also funds the Dinners with an Expert and Expert Consultation sessions presented by the Education, Training, and Career Development Council. These small, highly engaging sessions nurture SBM's early career members and encourage their connection and collaboration with our Fellows. Finally, the AMDC supports SBM's public policy work, which is designed to increase research funding, the impact of behavioral medicine throughout healthcare reform implementation, and the visibility of SBM.
Annual Meeting Sponsorship
The Development Committee always reaches beyond the membership base to secure support for keynotes, master lectures, and symposia - with solid success. While membership dues and registration fees go far to support the many costs associated with an annual meeting, those costs increase from one year to the next and exceed the income from dues and fees. Hotel charges-for space, food and beverages, and other services-increase annually as do charges for audio/visual and decorator services. Fortunately, SBM has enjoyed continuous conference support from NIH, the American Cancer Society, the American Legacy Foundation, and other groups but it's important to let these supporters know that our own members feel such commitment to their Society that they, too, provide contributions.
SBM's "savings account"
At the end of the SBM fiscal year, we build our reserves when net income exceeds expenses. Due to careful stewardship on the part of the SBM Board the SBM reserves have been building, which continues to ensure the viability of the organization. Moreover, reserves can be used to expand programs and initiatives.
This year, consider demonstrating your commitment to the Society by supporting one or more of the aforementioned options. Simply fill out the secure online contribution form on the Support SBM webpage. You can also designate extra support to SBM activities when filling out your Annual Meeting registration or membership renewal forms. Your gift - of any size - will help SBM do more to ensure better health through behavior change. Plus, annual meeting attendees who have made a gift will find a "Friend of SBM" ribbon in their registration packet, to be worn with pride!