PRESIDENT'S MESSAGE
Pride, Prejudice, and the Power of Stories to Enrich our Professional Impact on the World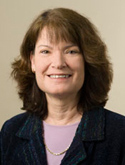 Abby C King, PhD
I have always prided myself on 'wearing the mantle' of science as best as I could-through being dispassionate, exacting, and appropriately distanced from the objects of my investigations. Isn't that what we have been taught from the beginning of our careers, starting, for many of us, in that Psychology 101 class with the term "objectivity"? Of course, those basics of scientific inquiry remain fundamental for building an evidence base that is, as much as we can make it, minimally biased, concise, and trustworthy. And I always believed that if I just conducted strong, "tight" science, the results would speak for themselves, my job as a scientist ending with scientific publication and presentations. Surely that is what my academic institution, colleagues, and, by extension, community members and policy makers seemed to care the most about.
I couldn't have been more wrong. While, yes, my energies in the areas of publication and grant writing began to pay off, I've always had that niggling feeling that presenting the scientific results of the hard-fought grants that we had received just wasn't enough; there was often no real "impact" beyond the scientific community. Even though my team and I were incredibly excited about what we were discovering through our research, that level of enthusiasm never quite reached the non-scientific audiences to which we presented. Why was it when we presented the results of our latest study showing how local neighborhood environments can impact the health of the entire community, local decision makers nodded politely, but when a resident stood up and told her personal story about something going on in her small neighborhood, the same decision makers were totally engaged?
That's when the art and principles of storytelling began to creep into my consciousness. Most of us are familiar with the stories that we constantly hear or see that end in a request for money or a purchase of a product. Sure, they pull at our emotional heartstrings, but what would that type of communication have to do with science? Truth be told, my sense of pride around scientific inquiry was accompanied by a bit of prejudice concerning the use of personal anecdotes rather than the data-driven conclusions that are at the core of our scientific training. I think that scientists in general are often most comfortable in communicating about "just the facts, ma'am" (as the major character in the old police series "Dragnet" used to expound). So when Tracy Orleans described the power and promise of telling behavioral medicine's stories in a compelling way at my first Wisdom Council meeting last April in Washington DC (the Wisdom council being comprised primarily of our past presidents), I was intrigued but, at the same time, a bit skeptical. That skepticism began to change to curiosity when other senior members like Red Williams and Bob Kaplan added their support to the concept of storytelling as a means for creating interest in what we do among the non-scientific community. But, given how incredibly busy and time-pressured all of us are these days, how could I learn a bit more about this storytelling concept and how it could be used in the Society's growing communication and policy activities?
The answer came in a webinar series by Andy Goodman and colleagues of the Goodman Center that an intrepid group of SBMers (Karen Emmons, Ellen Beckjord, Sherry Pagoto, Amy Stone, and I) participated in this past month. Initial uncertainty on our part turned first to a basic understanding and then a growing appreciation of the power and potential of telling compelling stories about our scientific successes in a way that will grab people's hearts as well as their minds. We learned what many of us have long suspected-people who tell compelling stories, regardless of their credentials or knowledge in a particular area, are having a greater impact on the choices and behaviors of the public and decision-makers alike than those of us who have actually generated the evidence! This was brought home to us in striking ways when comparing a "facts and figures" narrative head-to-head with the same information presented as a compelling, person-oriented story of obstacles overcome and benefits achieved.
But why would this be so? Apparently because we all carry around stories in our heads concerning how the world works, many of which emanate from the right side of our brain (the emotional, passionate side); and given this, no story that focuses only on the analytic, data-oriented left side of the brain will likely have sufficient impact to change people's current views. Changing our minds not only requires new or better evidence but new and better stories to displace the old ones. The goal, then, is to speak to both the right and the left sides of the brain in presenting our evidence; in essence, to tell a persuasive story. Notably, as Sherry Pagoto has pointed out, it was often our own passion and caring that led us to study what we do in the first place. But the ways that we have learned to communicate our science can at times get in the way of convincing others to care as much as we do about what we're discovering about behavior and health. For a recent JAMA publication on the power of storytelling in medicine, see http://jama.ama-assn.org/content/306/18/2022.extract.
I also discovered as part of this initial foray into storytelling that all of us (even those like me who have been a bit shy about straying too far from my "scientific narrative" roots), have compelling scientific stories that can be told in a convincing and engaging fashion; that we already have talented "storytellers" in our midst (see Brad Hesse's book on "Making Data Talk"); and, finally, that there are different kinds of stories aimed at different aspects of our professional lives. These include our unique "success" stories that highlight our knowledge and contributions; stories that describe the nature of our field's challenges and the solutions that we seek; and those that embody our collective vision and aspirations for our field (i.e., where we're headed). These different stories can expand the impacts and reach of our own research as well as the larger activities of SBM and the behavioral medicine field as a whole.
Perhaps the most important thing that I've discovered is that compelling stories lurk in even the "driest" of data, if we can open our eyes to the promise of what they mean for people living outside of academia, the true beneficiaries of our hard work. In the coming months we hope to begin to highlight, with specific examples, how the same results can be presented in these two different ways (via the typical narrative vs. story-telling approach). To begin to "mine" the myriad compelling scientific stories currently lying dormant among our members, we aim to begin to explore, as an organization, several different activities. These include harnessing our website, newsletters, and other communication pathways to spotlight our members' scientific success stories, particularly those with direct or indirect policy implications; providing tips and "how to's" on compelling storytelling that our members can use in their own work; developing an informational storytelling session for next April's scientific conference; and fashioning SBM's scientific stories in effective ways that resonate with local, regional, and national decision-makers.
Why do this? Because it's becoming increasingly clear that sound evidence is often insufficient on its own to promote action among legislators and other decision makers who are in the "driver's seat" concerning funding, health policy, and related areas of prime importance to our field. If we don't engage the public and decision-makers by telling our stories of how our research and interventions matter in people's lives, who will?
What scientific stories might you have to tell about how the research that you're doing touched the life of a community member, a patient, an organization, a colleague or a decision maker? Stay tuned to hear more about our collective next steps in this arena!
Best, Abby King