Sanity and Civility in 2011: What Jon Stewart Can Teach Us
Karen M. Emmons, PhD, Society of Behavioral Medicine President
OK - I admit it - I'm a big fan of Jon Stewart. I enjoy his witty, pointed, and honest efforts to shine a light on the issues facing our country. I especially appreciate his willingness to take on the power hierarchy - from both sides of the political aisle - in a civil and thoughtful manner. I had real twinges of jealousy hearing stories from our colleagues in DC who participated in the Stewart and Colbert Rally to Restore Sanity. Over 200,000 people came out to make a statement about the way in which we treat each other in the context of political discourse (OK, and to see some great comedy too . . .).
A week before the rally occurred, I served on a Scientific Advisory Board, and was chatting with another member who is a basic scientist. We were talking about the economy and the funding climate, anticipating the mid-term elections and the impact that they might have on the NIH budget. Most of us have had many of these types of conversations over the past months. But what was truly shocking to me about this conversation was my colleague's prediction about behavioral science in a more austere funding climate - "You guys are doomed", he said. Of course, I immediately steeled myself for a fight, ready to justify why our work makes a significant contribution to the nation's health. But before I could utter the first word of my defense, he said "This is the worst possible time for a field to beat up on itself so badly and routinely as you guys do." Then I truly was speechless, because he was right. Even basic scientists can see that behavioral scientists often go beyond rigor - go beyond ensuring strong science - and simply beat each other up. I have since reflected on the many times that I've sat on study sections and seen a proposal judged harshly because the PI is approaching a problem differently than the reviewer would, or uses a different theory than the reviewer prefers. And when I talk to colleagues about this issue, they all have stories about similar experiences, where they felt that strong behavioral science was judged more harshly within our field than is typical in other disciplines.
We have a very strong science tradition, and strong scientific methods. We do rigorous work, and contribute to the understanding of human disease and its prevention. So why do we so often nitpick in grant reviews, poorly scoring grants in which every detail that we as a reviewer could think of is not provided? Why are we willing to fall back on our own case examples of things we've tried but didn't work as evidence that someone else can't do it better? And why do we sometimes push back on innovation as being too risky or radical? Is it because we are trying to prove ourselves? We've already done that, and have a large and profound body of work to demonstrate that. Is it because it was hard for us, back in the days when behavioral science was not well-accepted, and we don't want to let those behind us off the hook? Well, it's pretty hard now, and no doubt will be even harder in the next few years because of the pressure on the federal budget. If we don't bring the next generation along, the foundation of the science that we have built will crumble, as these young behavioral scientists are forced into other careers.
I have had so many conversations about this issue over the years - I imagine that just about every one of us who is NIH-funded has experienced this either as an applicant or as observer on study section. In fact, I believe that it happens often enough that we have accepted it as fact. I also believe that together we can address this serious problem that vexes our field. So what can we do? I pondered this question with your President-Elect, Abby King, and we came up with some very concrete and manageable actions. First, if you share these concerns, volunteer to serve on study section, and work on changing these behaviors. If other reviewers start to go down this field-defeating path, push back on scientific grounds. Ensure that strong science does not get beaten down. Second, if you're currently on study section, consider your own and your fellow members' behavior. Work on changing the culture from the inside. Third, if you observe these behaviors when on study section, convey them to the SROs and study section Chairs. I've had informal conversations with many of these individuals over the years, and many do see the issue. They need this feedback to be able to address and shape the discussions that occur. Fourth, as you write your own grants, put more time into making arguments for the significance/innovation of your work. This will shift the focus from methodological detail, which is harder to fully convey in the shorter grant format, onto significance, which will give reviewers the ammunition they need to make the case for the importance and impact of your work. You may have other ideas as well - please send them to me and we can keep this dialogue going through our new website.
The new NIH review criteria gives us only one opportunity for revision. In addition, in the new bulleted review format, reviews can sometimes be cryptic which makes it even harder to address concerns in a revision. Yes, we must be rigorous and must maintain the strong scientific foundation that we have worked so hard to build. But let's also take a page from Stewart and Colbert and be civil, constructive, and generous of our knowledge and experience. It's important for the health of our field. And the health of the nation depends on it.
Development: Expanded Opportunities to Support SBM
If you've registered for the 2011 Annual Meeting or renewed your membership you might have noticed some "giving" opportunities. Each and every year, generous members provide "extra" support to SBM and that support - above and beyond dues and meeting registration fees - allows the Society to deliver and expand services. The three opportunities highlighted on the membership application comprise:
1) The Advocacy and Membership Development Campaign. Instituted a number of years ago, this campaign has supported travel to the Annual Meeting for recipients of the student travel awards. This year the SBM Board adopted a new focus: education and advocacy at the federal level, designed to bring attention to the importance of behavioral medicine research funding, increase the impact of behavioral medicine throughout healthcare reform implementation, and heighten the visibility of SBM.
2) Annual Meeting sponsorship. The Development Committee always reaches beyond the membership base to secure support for such educational events as keynotes, master lectures, and symposia - with solid success. While membership dues and registration fees go far to support the many costs associated with an annual meeting, those costs increase from one year to the next and exceed the income from dues and fees. Hotel charges - for space, food and beverages, and other services - go up annually as do charges for audio/visual and decorator services. Fortunately, SBM has enjoyed continuous conference support from NIH, the American Cancer Society, the American Legacy Foundation, and other groups but it's important to let these supporters know that our own members feel such commitment to their Society that they, too, provide contributions.
3) SBM's "savings account." At the end of the SBM fiscal year, we build our reserves when net income exceeds expenses. Due to careful stewardship on the part of the SBM Board the SBM reserves have been building, which continues to ensure the viability of the organization. Moreover, reserves can be used to expand programs and initiatives.
This year, when you renew your membership or register for the meeting, consider demonstrating your commitment to the Society by supporting one or more of the aforementioned options. Your gift - of any size - will help SBM do more to ensure better health through behavior change. Plus, annual meeting attendees who have made a gift will find a "Friend of SBM" ribbon in their registration packet, to be worn with pride!
Update on Aging SIG Activities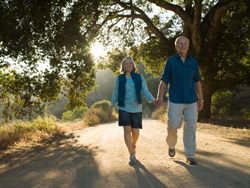 Senaida Fernandez, PhD, Aging SIG Co-Chair
Loriena Yancura, PhD, Aging SIG Co-Chair
The Aging SIG has been working to bring greater visibility to research that explores the ways in which older adults, particularly older adults with chronic illnesses, can alter their behavior to promote health and quality of life.
In the past year we have instituted a student research award, the SBM Aging SIG Award for Outstanding Student Research Abstract in Aging. This award recognizes exemplary graduate student research in aging and provides free registration to the SBM Annual Meeting. More information regarding this award will be provided in the coming months via the SBM listservs.
We are pleased to announce that members of the Aging SIG will present a seminar on the impact of research on policy titled "Changing Behavior in Older Adults to Optimize Health and Quality of Life: Using Research to Impact Policy" at the 2011 SBM Annual Meeting in Washington, DC. The seminar is designed to highlight current research findings and their potential utility for influencing policy, to describe the ways in which our messages can be disseminated, and to address how researchers can influence policy makers.
The first section of the seminar includes a group of papers demonstrating effective health behavior interventions with policy implications delineated. The second section provides examples of how to disseminate findings and continue to advocate for the health of older adults. Specifically, we will describe the role of older adults as the disseminators of policy messages and the use of evidence to advocate for policy initiatives around training as well as access to services. The third section of the seminar will be conducted by a nationally recognized lawyer and political advocate with expertise in health care, particularly as it relates to older adults. She will address how we move from our findings to next steps for influencing policy makers. Specifically, she will review the process of identifying "the ask", getting to the table, using our local and national impact as members of a larger organization, and being attuned to appropriate timing of our messages. Participants of this seminar will gain new insight into the translation of research into policy and can network with others who may be doing similar research and have similar policy related interests and agendas.
We encourage you to attend this session to learn more about the many interesting ways in which research can impact public policy. We look forward to seeing you in Washington, DC (http://www.sbm.org/meeting/2011/)!
Child and Family Health SIG Update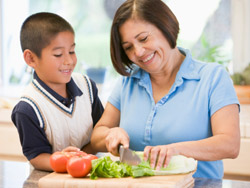 Kenneth P. Tercyak, PhD, Division of Health Outcomes and Health Behaviors, Department of Oncology, Georgetown University and Lombardi Comprehensive Cancer Center
The Child and Family Health (C&FH) SIG is an interdisciplinary forum for members of SBM concerned with the health and well-being of children, adolescents, and families. Members of this SIG have interests bridging biological, cognitive, emotional, behavioral, and social functioning of children and adolescents with a focus on understanding contextual, social ecological influences on child health and development.
The year 2010 served as a transition point in our organization, as I was elected as the SIG's Chair through our general election process. I would like to take this opportunity to again thank the members of the C&FH SIG for this honor, and to reiterate my commitment to guiding us over the coming years. My first order of business was to extend a warm and heartfelt thanks to Melissa Alderfer, PhD, of the University of Pennsylvania for her outstanding work on our behalf as she completed her term as the SIG's inaugural Chair. Melissa is a stalwart advocate for the advancement of research and practice in child and family health. We were fortunate to have been steered through our SIG's start-up phase by such a committed, skillful, and adept leader. My next order of business was to build upon the interest and momentum of the SIG's membership in moving us toward a more formalized, collaborative governance structure. Toward that end, we established our SIG's first Advisory Committee. This committee is composed of volunteer members-in-good-standing of the C&FH SIG and SBM. Member advisors were asked to serve an initial one-year term, offering their input on how SIG affairs are managed, goals set, priorities achieved, and to assist with other SIG-related functions. I am pleased to announce that our Advisors for 2010-2011 are Melissa Alderfer (Immediate Past Chair of the SIG), Pamela Behrman, Willa Doswell, Margaret Hannan, Carmen Isasi, and Heather Kitzman-Ulrich. I look forward to working with them, and all the members of the C&FH SIG, as we move ahead.
Two of my priorities for the upcoming term are to devote additional time and attention to SIG-related programming at the SBM Annual Meeting, and to expand our membership base and interaction with other SIGs and allied organizations. I am pleased to report that Sean Phipps, PhD, of St. Jude Children's Research Hospital has kindly agreed to represent our SIG to the new SBM-NCI collaborative on Grid Enabled Measures; Sean will be assisted in this effort by Jin-Shei Lai, PhD of Northwestern University. We will hold a general meeting and networking event at the the 2011 SBM conference in Washington, DC to discuss these and other updates, and look forward to seeing you there.
Speaking of the SBM Annual Meeting, our SIG is excited to announce plans to honor two recipients for excellence in research related to child and family health. Our Student Award will recognize research conducted by a student, and our Award for Outstanding Research in Child and Family Health recognizes excellence by a professional at any career stage. Recipients will be acknowledged at the Annual Meeting.
The C&FH SIG is growing fast and we welcome input from SBM members about ideas and opportunities that could advance our mission. If you are interested in becoming a member of our SIG, please contact the SBM staff liaison to the SIG Council (Alicia Sukup; asukup@sbm.org). C&FH SIG members are always welcome to submit ideas and suggestions for SIG-related activities through our listserv, childfamily_sig@list.sbm.org. For more information, check us out online (http://www.sbm.org/sig/child_family/) or contact me at tercyakk@georgetown.edu.
Obesity and Eating Disorders SIG Update
Nikki Nollen, PhD, Obesity and Eating Disorders SIG Co-Chair
Christie Befort, PhD, Obesity and Eating Disorders SIG Co-Chair
The mission of the Obesity and Eating Disorders SIG of SBM is to advance the field of obesity and eating disorders through the scholarly pursuit of scientific research. In addition, the SIG strives to provide networking, mentorship, and scientific training to those interested in obesity, eating disorders, and weight-related pathology. Recognizing the value of interdisciplinary collaboration, we have spent the past year strengthening ties with two related SBM SIGs: Diabetes and Physical Activity. At the 2010 SBM Annual meeting, we hosted a roundtable discussion with the Physical Activity and Diabetes SIGs to discuss fostering cross-SIG collaborations. More than 40 people attended the discussion which focused on developing a critical agenda for research and/or key next steps within each domain, identifying overlap in interests that could benefit from interdisciplinary collaboration, and identifying an initial set of joint priorities areas.
Initial joint priority areas identified were:
Creation of a summary paper or a series of papers to be published in a special issue of a journal;
Creation of an annual award that exemplifies cross-cutting research and interdisciplinary collaboration;
Creation of a joint listserve for the purpose of disseminating the latest ongoing research efforts across SIGs (e.g., highlighting 1-2 research projects per month);
Jointly sponsored workshops or symposia at the annual meeting on topics such as cross-cutting measurement issues, genetics and lifestyle behaviors, or quality of life in relation to physical activity, diabetes, and obesity; and
Circulation of conference highlights or web links to other professional organizations whose work is relevant to the membership of our SIGs (e.g., American Diabetes Association, American College of Sports Medicine, Obesity, etc.)
Following the SBM Annual Meeting, we sought broader input by asking members from all three SIGs to complete an online survey. Members were asked to rank the five priorities in order of preference and to provide suggestions for other priority areas. Two clear priorities emerged: a joint workshop/symposium and a joint paper. We will continue our momentum by hosting a second cross-SIG meeting at the 2011 SBM Annual Meeting. This meeting, scheduled for a Friday Breakfast Roundtable, will engage Obesity, Physical Activity, and Diabetes SIG members in planning for a joint workshop, symposia, and/or paper in the upcoming year. Our hope is to engage members in specific tasks to meet these shared goals. We are excited about the upcoming annual meeting and invite anyone interested to attend our cross-SIG meeting.
Nikki Nollen (nnollen@kumc.edu)
Christie Befort (cbefort@kumc.edu)
Encouraging Collaboration: The Graduate Student Perspective
Kay Grant, BS, Student SIG Outlook Liaison
Jennifer Kowalsky, BA, BSc, Student SIG Outlook Liaison
Among the myriad things we do as students - studying, writing, reading, and trying to stay ahead of the caffeine crash - it is easy to miss the potential to collaborate with others. Students can make their research more comprehensive and their student careers a more enriching experience by engaging with each other, their mentors, and other experts in their respective fields. Oftentimes, we get so immersed in our own departments that we forget there may be colleagues from other departments or universities who share our research interests and who may welcome the opportunity to collaborate. Collaboration can help us gain new perspectives, learn new research methodologies, and broaden our network of colleagues, all of which will help create a foundation for success in our future research and career endeavors. Students usually think of collaboration as something they plan to do after graduation; however, seeking opportunities for collaboration during the course of graduate studies can help set the stage for lasting partnerships that will improve the quality of our research and, ultimately, the outcomes we strive to improve for public health. Here are some ideas to promote collaboration:
Take advantage of your graduate student peers. Seek out students who share your research interests and discuss opportunities for co-authoring a presentation or a manuscript. This is a great way to share both the workload and the rewards.
Investigate the research interests of faculty members in other departments at your university and initiate contact. Perhaps this faculty member would be willing to serve on you dissertation committee. Take advantage of meetings to discuss your dissertation to also explore opportunities for collaboration.
Interact with presenters at SBM's annual meeting. Perhaps the data they presented inspired new research questions that may be collaboratively explored. On the other hand, perhaps you have data they may be interested in learning about.
SBM provides a member directory that allows you to search by specialty, geographic location, profession, and even SBM membership type (i.e., Student/Trainee, Fellow, Associate, or Emeritus member). We encourage you to make use of this valuable tool to seek out potential collaborators.
A Look at Future Annual Meeting Host Cities
Melissa A. Clark, PhD, Program Support Committee Chair
The Program Support Committee (PSC) serves as an institutional memory by: updating the program manual/handbook containing timetables/summaries from past meetings; analyzing and reviewing meeting statistics and reporting results to the Executive Committee; making recommendations on future annual meeting goals and program improvement. The Committee also takes an active role in identifying and recommending future Annual Meeting sites.
This year's PSC consists of the Committee Chair (Melissa A. Clark, PhD), the immediate past Program Chair (Michael A. Diefenbach, PhD), previous Program Chairs (Sherry L. Pagoto, PhD, and Frank J. Penedo, PhD), a Student Representative (Stacey A. Ogbeide, MS) as well as two additional SBM members (Shelby L. Langer, PhD, and Robert W. Motl, PhD).
During the fall of 2010, the PSC used feedback provided by the Annual Meeting attendees to draft a list of possible city locations to hold the 2013-2015 Annual Meetings. A Request For Proposals (RFPs) was sent to various conference hotels in the cities selected by the committee. Proposals are still under review but cities currently under consideration include San Francisco, San Diego, San Antonio, and Philadelphia.
The PSC does not make the final selection for the conference cities; we will review proposals from potential conference hotels and make recommendations to the SBM Board. The final decisions will be based on a vote by the Board.
The needs and preferences of conference attendees are weighed very heavily in selecting potential venues for the Annual Meeting. Based on feedback that we have received, factors that the PSC have prioritized in recommending potential conference cities include: meeting space and guest rooms under one roof; low guest room rates; "walkable" cities with interesting night-time activities; accessible airports and transportation; and low food and beverage costs which means more catering options for attendees.
Unfortunately, given the current size of the SBM conference, it is becoming increasingly difficult to select from a wide variety of conference cities. For example, many hotels are not able to accommodate the number of guest and meeting rooms as well as exhibit hall space that is required for our conference. Therefore, the PSC will be working with Program Chairs to test the feasibility of some new features to the program such as vertical posters for future Annual Meetings. In addition, we will continue to ask for your feedback about conference features that are the highest priority for you.
The 2011 Annual Meeting is going to be fantastic thanks to the hard work of President Karen Emmons, PhD, Program Chairs, Gary Bennett, PhD, and Jamie Studts, PhD, as well as everyone who served on the Program Committee, reviewed abstracts, and submitted their work for consideration.
If you have any feedback for the Program Support Committee, please do not hesitate to contact me at Melissa_Clark@brown.edu. I look forward to seeing you at the Annual Meeting in Washington, DC April 27-30, 2011.
New EBBP Modules on Decision-Making
Molly Ferguson, MPH
Bonnie Spring, PhD, ABPP
The Resources for Training in Evidence-Based Behavioral Practice project has launched two new modules on decision-making:
Shared Decision-Making with Individual Clients: Learn about the shared decision-making process as a practitioner working with individual clients. You will work through cases and attempt to balance the best available evidence with client preferences and resources in a clinical setting.
Collaborative Decision-Making with Communities: Learn about the collaborative decision-making process as a public health practitioner working with communities. You will work through a case from the point of view of a public health program manager working in a local health department.
Select modules are available for continuing education credit for psychologists, physicians, and nurses, and will be available shortly for social workers.
The new decision-making modules, along with all other training resources from the EBBP Project, are available at www.ebbp.org/training.html. All materials are available free of charge.
For more information about the EBBP Project, visit the project's main website at www.ebbp.org. Please contact Molly Ferguson, the EBBP Program Manager, at m-ferguson@northwestern.edu with any questions/comments.
SBM Sponsors a Call for Papers to Translational Behavioral Medicine Featuring VHA Research
David E. Goodrich, EdD, VA Ann Arbor Healthcare System
In support of a new partnership between SBM and the Veterans Health Administration (VHA), Bonnie Spring, Editor-in-Chief of Translational Behavioral Medicine: Practice, Policy Research (TBM), has committed to dedicate a special section of the December 2011 issue to feature innovative behavioral medicine research supported by VHA. A call for papers has been disseminated to both SBM members and related professional organizations to encourage the submission of manuscripts by May 2011. Special edition co-editors, Robert Kerns and Sara Knight, hope that this issue of TBM will highlight how VHA has taken a leading role in integrating behavioral medicine practices into applied patient care.
As Dr. Knight observes, "I think many behavioral medicine professionals are unaware of the vast applied research opportunities supported by the VA. It is our hope that this special edition may encourage some SBM members to cultivate clinical and research partnerships with their local VA facility to test new strategies that improve patient outcomes through behavioral medicine."
Most Americans are unaware that VHA is the nation's largest integrated health care system, and one of the world's largest health organizations, serving over 5.7 million Veterans per year. With an annual budget of $52 billion, the VHA includes 153 hospitals, 135 long term care facilities, and 784 outpatient clinics in cities and communities. The VHA has become known as an early adopter of health services innovations, such as the national electronic medical record, and as a provider of high quality care that is accessible to even the poorest of Veterans. Compared to the general American population, Veterans are generally characterized by greater socio-economic disadvantage and psychiatric and medical comorbidity.
Through their system of affiliations with academic medical schools and more than 100,000 clinical trainees per year, the VHA leads the nation in the clinical training of health care professionals. During the past decade, the VHA initiated the rapid implementation of evidence-based interventions for common chronic conditions. Many of these implementation initiatives have incorporated interdisciplinary behavioral medicine. Illustrative examples include stroke self-management, multiple risk factor interventions for diabetes, and patient and health professional engagement in disease prevention.
This special issue of Translational Behavioral Medicine will be devoted to articles that describe these VHA innovations in behavioral medicine and the challenges of implementing them in a large integrated health system. Manuscripts pertaining to the VHA are encouraged in the following content areas: evidence-based practice and inter-professional teams, health care professional behavior change, system-wide implementation of behavioral medicine, intensive behavioral medicine interventions in VA, quality measures for behavioral medicine, and implementation projects where health behavior is a significant part of the intervention.
Paper topics of special interest include evidence synthesis of behavioral interventions, barriers and facilitators of large scale behavioral medicine implementation in VHA, and the development of inter-professional teams including behavioral medicine in the VHA. Empirical contributions, systematic reviews, case studies, commentaries, and policy briefs are welcome. For more information about submitting a manuscript, please visit http://www.springer.com/medicine/journal/13142.
David E. Goodrich, EdD, is a Health Research Science Specialist at the Ann Arbor VA Center of Clinical Management in Ann Arbor, MI, who serves on the SBM Scientific and Professional Liaison Council. His research focuses on the application of behavioral interventions for the management of chronic health conditions and is a member of the VA's Diabetes Quality Enhancement Research Initiative (QUERI).
Scientific and Professional Liaison Council Update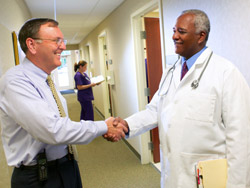 Sara J. Knight, PhD, Scientific and Professional Liaison Council Chair
Would you like to build professional networks within and outside SBM?
Do you hope to develop relationships with agencies and foundations that could fund your work?
Would you want to bring your SBM experience to another association that is important to you?
Do you wish you could bring expertise from another scientific society to SBM?
If so, you may be interested in the SBM Scientific and Professional Liaison Council (SPLC). The SPLC works on behalf of SBM members to build and nurture relationships with external scientific and professional societies, advocacy groups, federal agencies, and foundations. SPLC aims to enrich SBM and to expand the reach of its members through collaborations with liaison organizations on scientific and educational programs, publications, and policy and advocacy initiatives.
The current council membership is diverse and includes SBM members from a range of disciplines and interests: Nicole Bereolos, PhD, Martin Cheatle, PhD, Kirsten Davison, PhD, Molly Ferguson, MPH, Alan Glarus, PhD, David Goodrich, EdD, Laura Hayman, PhD, RN, FAAN, Sara Knight, PhD (Chair), Shelagh Mulvaney, PhD, Kimberly Sibille, PhD, Susan Woods, MD (Past Chair).
The following examples illustrate recent council work.
American Medical Informatics Association (AMIA). Dr. Susan Woods leads this liaison working closely with the Behavioral Informatics Special Interest Group (SIG). Accomplishments include a highly successful preconference day funded by the National Cancer Institute at the 2010 SBM annual meeting and a companion session at the 2010 AMIA annual meeting.
American Heart Association (AHA). Dr. Laura Hayman leads the AHA liaison and has identified key initiatives for SBM/AHA partnerships on health policy and advocacy. This liaison is closely aligned with SBM policy work on cardiovascular risk reduction.
Society for Medical Decision Making (SMDM). Dr. Suzanne O'Neill, Dr. Erika Waters, Dr. Christine Rini, and Ms. Molly Ferguson from the Health Decision Making SIG organized a panel for the SBM 2011 annual meeting featuring presentations by SMDM members and funded by the Foundation for Informed Medical Decision Making.
American Pain Society (APS). Working with APS leadership, Dr. Martin Cheatle developed two highly successful symposia presented at the 2010 SBM annual meeting.
American Public Health Association (APHA) Physical Activity SIG and the American College of Sports Medicine (ACSM). Dr. David Goodrich has focused on relationships with physical activity organizations. A major accomplishment was an exploratory meeting with National Cancer Institute, ACSM, and APHA representatives at the SBM 2010 annual meeting.
Veterans Health Administration (VHA). The SPLC has promoted SBM partnerships with the VHA working closely with Dr. Robert Kerns who leads this initiative. (See articles in this issue and in the fall issue of Outlook).
The SPLC encourages interest from SBM members who would like to contribute or to learn more about negotiating and building liaisons. Contact Sara Knight, PhD, at sara.knight@va.gov or sara.knight@ucsf.edu.
Sara J. Knight, PhD
Acting Director
Health Services Research Program
San Francisco Department of Veterans Affairs Medical Center
Associate Professor
Departments of Psychiatry and Urology
University of California at San Francisco
SBM and AMIA Liaison: Meaningful Use is Behavior Change
Susan S. Woods, MD, MPH, Veterans Health Administration
The convergence of high consumer demand for health information and the increasing adoption of electronic health records (EHR) have brought great opportunities to bridge the complementary disciplines of behavioral medicine and informatics. SBM and the American Medical Informatics Association (AMIA) held two joint events with the goal of strengthening this exciting partnership. There was great attendance at SBM's 2010 pre-conference session, Informatics, eHealth & Behavioral Science, a liaison effort between SBM and AMIA. More recently, the Behavioral Informatics SIG presented a session at the AMIA October 2010 meeting in Washington, D.C., titled Behavioral Science and Informatics: Synergy for Improving Implementation, Research & Outcomes. Panelists included SBM members Rita Kukafka, Columbia University, Susan Woods, Oregon Health & Science University and Veterans Administration, Abdul R. Shaikh, National Cancer Institute, and Josh Seidman, Director of Meaningful Use, Office of the National Coordinator (ONC). Moderated by Vimla Patel, University of Texas, the session focused on applying the richness of behavioral science to medical informatics for improved patient satisfaction and health outcomes.
There is enormous potential to improve the efficiency and safety of healthcare through use of EHRs and personal health records. Complete, accurate and patient-centered information enables clinicians to deliver better care, improves care coordination, and most importantly, can empower patients to take an active role in their health when the information can be readily accessed. New federal incentives and programs are now facilitating provider adoption of EHRs, to achieve certain objectives, referred to as Meaningful Use objectives which include: 1) improve care coordination, 2) reduce healthcare disparities, 3) engage patients and their families, 4) improve population and public health, and 5) ensure adequate privacy and security.
Additional partnership activities are underway between SBM and AMIA. If you are interested in joining this effort or learning more, please contact Dr. Susan Woods at Susan.Woods@va.gov or Dr. David Ahern at dahern@theabacusgroup.com.
Memorializing Deceased Behavioral Medicine Scholars
The Society of Behavioral Medicine would like to honor past SBM members and other individuals dedicated to the field of behavioral medicine who have passed away during the last year. SBM plans to hold a brief moment of silence at the upcoming 32nd Annual Meeting and Scientific Sessions in Washington, DC during the Presidential Address on Thursday, April 28, 2011.
Kindly forward the names of any behavioral medicine colleagues, mentors and friends who should be honored during this moment of silence to Amy Stone, Executive Director, astone@sbm.org, no later than April 15, 2011.
Honors, Awards and Publications
HONORS / AWARDS
Jill Bormann, PhD, RN, Research Nurse Scientist and Chair of VA Nursing Research Advisory Group at VA San Diego Healthcare System, received a Spirit of Planetree Program Award for "best complementary therapy" represented by the Mantram Repetition for Relaxation program.
Linda E. Carlson, PhD, Associate Professor at the University of Calgary, received the Canadian Association of Psychosocial Oncology Award for Research Excellence.
Jennifer Ellen Lee, PhD, University of Iowa Post Doctoral Fellow and Coe College Adjunct Professor of Psychology, was awarded an American Pain Society Future Leaders in Pain grant and a Midwest Pain Society trainee grant.
Vanessa L. Malcarne, PhD, Professor at San Diego State University, will be presented with the American Psychosocial Oncology Society's 2011 Outstanding Education & Training Award at the APOS 8th Annual Conference in Anaheim, CA, February 17-19, 2011.
Latrice C. Pichon, PhD, MPH, CHES, Assistant Professor in the School of Public Health at The University of Memphis, is a recipient of the Health Disparities Research Loan Repayment Program, National Center on Minority Health and Health Disparities, National Institutes of Health. She also has been selected to participate as a mentee in the 2-year APA Cyber Mentors program to train junior investigators to become independent HIV prevention researchers.
Carol E. Rogers, PhD, RN, APRN-BC, Arizona State University, received the 2010 John G. Lingenfelter Geriatrics Research Scholarship Award from the Arizona Geriatrics Society.
K. Vish Viswanath, PhD, Associate Professor at Harvard University received the Outstanding Health Communication Scholar Award for 2010 by the National Communication Association and the International Communication Association.
PUBLICATIONS
Adebiyi AO, Faseru B, Sangowawa AO and Owoaje ET. Tobacco use amongst out of school adolescents in a Local Government Area in Nigeria. Subst Abuse Treat Prev Policy 2010 Oct 18;5:24. PMID: 20955555.
Aggarwal B, Liao M, Allegrante JP, Mosca L. Low Social Support Level is Associated with Non- Adherence to Diet at 1-Year in the Family Intervention Trial for Heart Health (FIT Heart). J Nutr Educ Behav. 2010 Nov-Dec;42(6):380-8. Epub 2010 Aug 8. PMID: 20696617.
Aggarwal B, Liao M, Mosca L. Predictors of Physical Activity at 1-Year in a Randomized Controlled Trial. J Cardiovasc Nurs. 2010 Nov-Dec;25(6):444-9.PMID: 20856131.
Aggarwal B, Mosca L. Lifestyle and Psychosocial Risk Factors Predict Non-Adherence to Medication. Ann Behav Med. 2010 Oct;40(2):228-33. PMID: 20668975.
Birnie K, Garland SN, Carlson LE. Psychological benefits for cancer patients and their partners participating in mindfulness-based stress reduction (MBSR). Psychooncology. 2010 Sep;19(9):1004-9. PMID: 19918956.
Buman MP, Hekler EB, Haskell WL, Pruitt L, Conway TL, Cain KL, Sallis JF, Saelens BE, Frank LD, King AC. Objective light-intensity physical activity associations with rated health in older adults. Am J Epidemiol. 2010 Nov 15;172(10):1155-65. Epub 2010 Sep 15. PMID: 20843864.
Burne B, Knafelc V, Melonis M, Heyn PC. The use and application of assistive technology to promote literacy in early childhood: a systematic review. Disabil Rehabil Assist Technol. 2010 Oct 5. [Epub ahead of print] PMID: 20923322.
Carlson LE, Groff S, Maciejewski O, Bultz BD. Screening for distress in lung and breast cancer outpatients: A randomized controlled trial. J Clin Oncol. 2010 Nov 20;28(33):4884-91. Epub 2010 Oct 12. PMID: 20940193.
Carlson LE, Speca M. (In Press April 2010). Mindfulness-Based Cancer Recovery: A step-by-step MBSR approach to help you cope with treatment and reclaim your life. New Harbinger: Oakland, CA.
Chai W, Nigg CR, Pagano IS, Motl RW, Horwath C, Dishman RK. Associations of quality of life with physical activity, fruit and vegetable consumption, and physical inactivity in a free living, multiethnic population in Hawaii: a longitudinal study. Int J Behav Nutr Phys Act. 2010 Nov 22;7:83. PMID: 21092223.
DePue J, Rosen RK, Batts-Turner M, Bereolos N, Goldstein MG, House M, Held RF, Nuusolia O, Tuitle J, McGarvey ST. Cultural translation of interventions: diabetes care in American Samoa. Am J Public Health. 2010 Nov;100 (11):2085-2093. PMID: 20864729.
Deshields TL, Nanna SK. Providing care for the "whole patient" in the cancer setting: the psycho-oncology consultation model of patient care. J Clin Psychol Med Settings. 2010 Sep;17(3):249-57. PMID: 20799056.
Dishman RK, Vandenberg RJ, Motl RW, Nigg CR. Using constructs of the transtheoretical model to predict classes of change in regular physical activity: a multi-ethnic cohort study. Ann Behav Med. 2010 Oct;40(2):150-63. PMID: 20552417.
Emery CF, Anderson DR, Andersen BL (2011). Psychological interventions in health care settings. In D. Barlow (Ed.). Oxford Handbook of Clinical Psychology. New York: Oxford University Press. New York. pp. 701-716.
Engelman KK, Daley CM, Gajewski BJ, Ndikum-Moffor F, Faseru B, Braiuca S, Joseph S, Ellerbeck EF, Greiner KA. An Assessment of American Indian Women's Mammography Experiences. BMC Womens Health. 2010 Dec 15;10(1):34. [Epub ahead of print] PMID: 21159197.
Faseru B, Daley CM, Gajewski B, Pacheco CM and Choi WS. A longitudinal study of tobacco use among American Indian and Alaska Native tribal college students. BMC Public Health. 2010 Oct 18;10:617. PMID: 20955575.
Faseru B, Turner M, Casey G, Ruder C, Befort C, Ellerbeck EF, Richter KP. Evaluation of a hospital-based tobacco treatment service: outcomes and lessons learned. J Hosp Med. 2010 Nov 24. [Epub ahead of print]. PMID: 21108248.
Fuemmeler BF, Ostbye TO, Yang C, McClernon FJ, and Kollins SH. Association between attention-deficit/hyperactivity disorder symptoms and obesity and hypertension in early adulthood: a population-based study. Int J Obes (Lond). 2010 Oct 26. [Epub ahead of print] PMID: 20975727.
Graham AL, Cobb NK, Papandonatos GD, Moreno JL, Kang H, Tinkelman DG, Bock BC, Niaura RS, & Abrams DB. A Randomized Trial of Internet and Telephone Treatment for Smoking Cessation. Archives of Internal Medicine, 171(1):46-53, 2011.
Heckman CJ, Egleston BL, Hofmann, MT. Efficacy of motivational interviewing for smoking cessation: a systematic review and meta-analysis. Tob Control. 2010 Oct;19(5):410-6. Epub 2010 Jul 30. PMID: 20675688.
Held RF, DePue J, Rosen R, Bereolos N, Goldstein M, House M, Nu'usolia O, McGarvey S. Patient and health care provider views of depressive symptoms and diabetes in American Samoa. Cultur Divers Ethnic Minor Psychol. 2010 Oct;16(4):461-67. PMID: 21058808.
Hwang KO, Ottenbacher AJ, Lucke JF, Etchegaray JM, Graham AL, Thomas EJ, Bernstam EV. Measuring social support for weight loss in an Internet weight loss community. Journal of Health Communication,0;1-14, 2011. DOI: 10.1080/10810730.2010.535106.
Levy DT, Mabry PL, Graham AL, Orleans CT, & Abrams DB. Exploring Scenarios to Dramatically Reduce Smoking Prevalence: A Simulation Model of the Three-Part Cessation Process. American Journal of Public Health, 100(7):1253-9, 2010. PMID: 20466969.
Liu Y, Pérez M, Schootman M, Aft RL, Gillanders WE, Ellis MJ, Jeffe DB. A longitudinal study of factors associated with perceived risk of recurrence in women with ductal carcinoma in situ and early-stage invasive breast cancer. Breast Cancer Res Treat. 2010 Dec;124(3):835-44. Epub 2010 May 6. PMID: 20446031.
Lounsberry JJ, MacRae H, Angen M, Hoeber M, Carlson LE. (2010) Feasibility Study of a Telehealth Delivered, Psychoeducational Support Group for Allogeneic Haematopoietic Stem Cell Transplant Patients. Psychooncology. 2010 Jul;19(7):777-81. PMID: 19653332.
Mâsse LC, Nigg CR, Basen-Engquist K, Atienza AA. Understanding the mechanism of physical activity behavior change: challenges and a call for action. Psychol Sport Exerc. 2011 Jan;12(1):1-6.
Nigg CR, Geller KS, Motl RW, Horwath CC, Wertin KK, Dishman RK. A research agenda to examine the efficacy and relevance of the transtheoretical model for physical activity behavior. Psychol Sport Exerc. 2011 Jan;12(1):7-12. PMID: 21113323.
Pérez M, Liu Y, Schootman M, Aft R, Schechtman KB, Gillanders WE, Jeffe DB. Changes in sexual problems over time in women with and without early-stage breast cancer. Menopause. 2010 Sep-Oct;17(5):924-37. PMID: 20461020.
Rogers, C. E., Keller, C., Larkey, L., Ainsworth, B. (2010). Meditative movement for prevention of functional decline among older adults. Arizona Geriatrics Society Journal. 2010.15(2),13-16.
Sauer AL, Parks A, Heyn PC. Assistive technology effects on the employment outcomes for people with cognitive disabilities: A systematic review. Disabil Rehabil Assist Technol. 2010;5(6):377-91. PMID: 20392190.
Tauras JA, Levy D, Chaloupka FJ, Villanti AC, Niaura RS, Vallone DM, Abrams DB. Menthol and non-menthol smoking: the impact of prices and smoke-free air laws. Addiction. 2010;105 (Suppl. 1):115-123.
Upshur C, Bacigalupe G, Luckmann R. "They dont want anything to do with you:" Patient views of primary care management of chronic pain. Pain Med. 2010 Dec;11(12):1791-8. PMID: 21029353.
Villanti AC, McKay HS, Abrams DB, Holtgrave DR, Bowie JV. Smoking-Cessation Interventions for U.S. Young Adults: A Systematic Review. Am J Prev Med 2010;39(6):564-574.