Scientific and Professional Liaison Council Update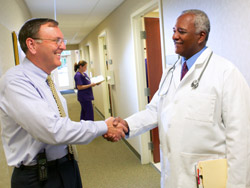 Sara J. Knight, PhD, Scientific and Professional Liaison Council Chair
Would you like to build professional networks within and outside SBM?
Do you hope to develop relationships with agencies and foundations that could fund your work?
Would you want to bring your SBM experience to another association that is important to you?
Do you wish you could bring expertise from another scientific society to SBM?
If so, you may be interested in the SBM Scientific and Professional Liaison Council (SPLC). The SPLC works on behalf of SBM members to build and nurture relationships with external scientific and professional societies, advocacy groups, federal agencies, and foundations. SPLC aims to enrich SBM and to expand the reach of its members through collaborations with liaison organizations on scientific and educational programs, publications, and policy and advocacy initiatives.
The current council membership is diverse and includes SBM members from a range of disciplines and interests: Nicole Bereolos, PhD, Martin Cheatle, PhD, Kirsten Davison, PhD, Molly Ferguson, MPH, Alan Glarus, PhD, David Goodrich, EdD, Laura Hayman, PhD, RN, FAAN, Sara Knight, PhD (Chair), Shelagh Mulvaney, PhD, Kimberly Sibille, PhD, Susan Woods, MD (Past Chair).
The following examples illustrate recent council work.
American Medical Informatics Association (AMIA). Dr. Susan Woods leads this liaison working closely with the Behavioral Informatics Special Interest Group (SIG). Accomplishments include a highly successful preconference day funded by the National Cancer Institute at the 2010 SBM annual meeting and a companion session at the 2010 AMIA annual meeting.
American Heart Association (AHA). Dr. Laura Hayman leads the AHA liaison and has identified key initiatives for SBM/AHA partnerships on health policy and advocacy. This liaison is closely aligned with SBM policy work on cardiovascular risk reduction.
Society for Medical Decision Making (SMDM). Dr. Suzanne O'Neill, Dr. Erika Waters, Dr. Christine Rini, and Ms. Molly Ferguson from the Health Decision Making SIG organized a panel for the SBM 2011 annual meeting featuring presentations by SMDM members and funded by the Foundation for Informed Medical Decision Making.
American Pain Society (APS). Working with APS leadership, Dr. Martin Cheatle developed two highly successful symposia presented at the 2010 SBM annual meeting.
American Public Health Association (APHA) Physical Activity SIG and the American College of Sports Medicine (ACSM). Dr. David Goodrich has focused on relationships with physical activity organizations. A major accomplishment was an exploratory meeting with National Cancer Institute, ACSM, and APHA representatives at the SBM 2010 annual meeting.
Veterans Health Administration (VHA). The SPLC has promoted SBM partnerships with the VHA working closely with Dr. Robert Kerns who leads this initiative. (See articles in this issue and in the fall issue of Outlook).
The SPLC encourages interest from SBM members who would like to contribute or to learn more about negotiating and building liaisons. Contact Sara Knight, PhD, at sara.knight@va.gov or sara.knight@ucsf.edu.
Sara J. Knight, PhD
Acting Director
Health Services Research Program
San Francisco Department of Veterans Affairs Medical Center
Associate Professor
Departments of Psychiatry and Urology
University of California at San Francisco