Child and Family Health SIG Update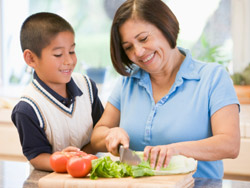 Kenneth P. Tercyak, PhD, Division of Health Outcomes and Health Behaviors, Department of Oncology, Georgetown University and Lombardi Comprehensive Cancer Center
The Child and Family Health (C&FH) SIG is an interdisciplinary forum for members of SBM concerned with the health and well-being of children, adolescents, and families. Members of this SIG have interests bridging biological, cognitive, emotional, behavioral, and social functioning of children and adolescents with a focus on understanding contextual, social ecological influences on child health and development.
The year 2010 served as a transition point in our organization, as I was elected as the SIG's Chair through our general election process. I would like to take this opportunity to again thank the members of the C&FH SIG for this honor, and to reiterate my commitment to guiding us over the coming years. My first order of business was to extend a warm and heartfelt thanks to Melissa Alderfer, PhD, of the University of Pennsylvania for her outstanding work on our behalf as she completed her term as the SIG's inaugural Chair. Melissa is a stalwart advocate for the advancement of research and practice in child and family health. We were fortunate to have been steered through our SIG's start-up phase by such a committed, skillful, and adept leader. My next order of business was to build upon the interest and momentum of the SIG's membership in moving us toward a more formalized, collaborative governance structure. Toward that end, we established our SIG's first Advisory Committee. This committee is composed of volunteer members-in-good-standing of the C&FH SIG and SBM. Member advisors were asked to serve an initial one-year term, offering their input on how SIG affairs are managed, goals set, priorities achieved, and to assist with other SIG-related functions. I am pleased to announce that our Advisors for 2010-2011 are Melissa Alderfer (Immediate Past Chair of the SIG), Pamela Behrman, Willa Doswell, Margaret Hannan, Carmen Isasi, and Heather Kitzman-Ulrich. I look forward to working with them, and all the members of the C&FH SIG, as we move ahead.
Two of my priorities for the upcoming term are to devote additional time and attention to SIG-related programming at the SBM Annual Meeting, and to expand our membership base and interaction with other SIGs and allied organizations. I am pleased to report that Sean Phipps, PhD, of St. Jude Children's Research Hospital has kindly agreed to represent our SIG to the new SBM-NCI collaborative on Grid Enabled Measures; Sean will be assisted in this effort by Jin-Shei Lai, PhD of Northwestern University. We will hold a general meeting and networking event at the the 2011 SBM conference in Washington, DC to discuss these and other updates, and look forward to seeing you there.
Speaking of the SBM Annual Meeting, our SIG is excited to announce plans to honor two recipients for excellence in research related to child and family health. Our Student Award will recognize research conducted by a student, and our Award for Outstanding Research in Child and Family Health recognizes excellence by a professional at any career stage. Recipients will be acknowledged at the Annual Meeting.
The C&FH SIG is growing fast and we welcome input from SBM members about ideas and opportunities that could advance our mission. If you are interested in becoming a member of our SIG, please contact the SBM staff liaison to the SIG Council (Alicia Sukup; asukup@sbm.org). C&FH SIG members are always welcome to submit ideas and suggestions for SIG-related activities through our listserv, childfamily_sig@list.sbm.org. For more information, check us out online (https://www.sbm.org/sig/child_family/) or contact me at tercyakk@georgetown.edu.