Research from members of the Child and Family Health SIG
Willa Marlene Doswell, PhD, FAAN, Child and Family Health SIG Outlook Liaison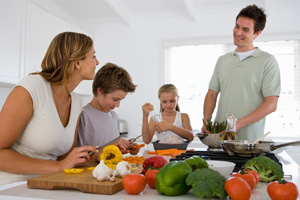 The Child and Family Health SIG of SBM provides an interdisciplinary forum for members to share their research around children, adolescents and families. Since the triple threats of a depressed economy, high joblessness, and families separated by troop deployment to persistent wars are part of the American life experience, our members have taken up the challenge to enhance health promotion among American children, teens and families.
The following SIG members have submitted communications regarding their current research activities.
Dr. Carmen R. Isasi is examining the role of acculturation, social capital and cardiovascular risk factors among Chinese immigrants residing in New York City. Dr. Bret A. Boyer is studying patient independence, self-management behaviors, parent-child conflict and illness-intrusiveness in families with diabetes. Dr. Denise C. Charron-Prochownik continues to expand her research in reproductive health in teen diabetics, expanding her work to Latinas and internationally. Dr. Willa Doswell is examining the role of parish nurses in assisting African American women experiencing behavior risks such as anxiety, stress, and depressive symptoms, and enhancing the parenting effectiveness/health promotion activities of single headed African American homes in impoverished inner city areas.
Dr. Margaret S. Hannan is examining communications between mothers and their daughters who are liver transplant recipients. Dr. Richard R. Rosenkranz is examining nutrition health promotion in girl scouts and their families. Graduate student member Kristin A. Long is examining the adjustment of siblings of pediatric cancer patients in the context of family-level changes. Dr. Cynthia K. Perry is studying the feasibility of an after school physical activity program for Latinos in Washington State. Dr. Moya Alfonso is examining community-based alcohol prevention targeting middle and high school students in Florida. Dr. Bruce S. Alpert is studying the genetics of CV reactivity in black youth in response to laboratory stressors.
Willa Marlene Doswell, RN, PhD, FAAN Associate Professor of the University of Pittsburgh School of Nursing (Wdo100@pitt.edu) and the Child and Family SIG Contributing Editor, SBM Outlook.