SBM's Health Policy Committee-Opportunities for Change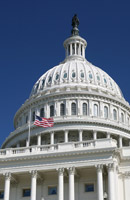 President Obama has an ambitious agenda on a variety of major national issues, including energy, wars in Iraq and Afghanistan, the economic crisis, and of course health care. Few presidents have taken office with such a multitude of challenges confronting the White House and the Congress, even before the viewing stands are built along Pennsylvania Avenue for the inaugural day parade.
It is anybody's guess as to what actually happens on health care, because campaign rhetoric often gets realigned with the realities of being elected to office. The White House and Congress are expected to agree on the need for "change," because change is what was promised and change is what people are expecting. But what, how and when things get changed is unclear.
What "appears" to be clear is that President-elect Obama is interested in increasing funding levels for NIH. He also "appears" to favor prevention as an important piece of any effort aimed at reducing the overbearing costs of health care. Organizations like SBM can provide clarity in these areas. When such clarity is based upon scientific evidence, it provides a formidable point of view to ideology.
SBM's Health Policy Committee has been active in making sure that the basic principles of behavioral medicine and the need for some of the changes in behavioral medicine (funding, research, successes and practice) are at least available to interested policy makers. More importantly, the Health Policy Committee has made and continues to make SBM's voice heard by key individuals in the nation's capital. All of this is done within the resources available to SBM, which are limited.
Already, SBM's statements on the role of behavioral medicine and the need for integrated primary care have been communicated to thought leaders within the transition team for the new president. These statements are available on the SBM homepage (www.sbm.org) under "SBM Policy Briefs & Statements." Staff members of key House and Senate committees have also been recipients of Board-approved documents on those two topics. SBM also belongs to the Consortium of Social Sciences Associations (COSSA), which continues to represent the needs of social and behavioral science disciplines at the federal level. The two SBM statements will be featured in the COSSA newsletter in January or February, when most new staff appointments in the House and Senate will be finalized. Once the dust settles from the inauguration, we will make additional efforts to reach out to elected and appointed officials.
But the Health Policy Committee cannot do it all. We need members of SBM to write to their House and Senate members drawing their attention to the role of behavioral medicine and the contributions it can make to reduce prevalence and costs of chronic diseases.
And therein lays the Opportunity for Change.
SBM members who want to write to their House and Senate members can get a template of an introductory letter drafted by the Health Policy Committee. The letter is available from SBM staff by writing to Holland LaFave at HLaFave@sbm.org or Amy Stone at astone@sbm.org. It is our hope that you personalize this letter to address health and health care issues of interest to you as a behavioral medicine expert. You can also personalize the letter to reflect the interests of the constituents that your elected officials serve.
Ultimately, that is what makes the difference. Most if not all SBM members hold positions within academic, research or other organizations that have credibility in the public field. It is important that you employ that credibility to benefit your own interests and the organization's interests.
We also hope that the many SIGs that belong to SBM bring forward their issues to the Health Policy Committee, if the issues have policy relevancy. The SIGS are in a unique position-they have expertise in key areas; expertise that may be of interest to Congress and the administration.
Note that SBM does not have an extended history of involvement in policy issues. We have not built traction for the organization's name in policy debates. But we have made a beginning. We can also hitch a ride with other organizations who already have a presence in Washington and with whom we share common interests. And we are already doing that.
We are not lobbyists, nor are we suggesting that you lobby Congress on specific bills or legislative initiatives on behalf of SBM. That is outside our scope. But we can inform and educate elected officials. That is clearly within our scope.
And that is what the Health Policy Committee wants to do.
Prabhu Ponkshe, MA, LLB
President, Health Matrix, Inc.
Chair, SBM Health Policy Committee