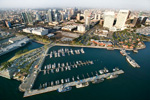 Key Dates
SBM 29th Annual Meeting & Scientifc Sessions
March 26-29, 2008 • San Diego, CA
https://www.sbm.org/meeting/2008/
We encourage you to review the program and make the decision to attend this information-filled and education-packed meeting featuring a number of remarkable Keynote and Master Lecturer speakers in addition to a program filled with a broad range of top-notch sessions. To view the preliminary program, please go to
https://www.sbm.org/meeting/2008/am08_prelim.pdf
Donít Forget!
SBM Business Meeting at the Annual Meeting
Saturday, March 29, 2008
8:30 am Ė 9:30 am
Please plan on attending this meeting where important information will be discussed.
SBM joins The Consortium of Social Science Associations (COSSA)
SBM's Board of Directors is pleased to announce that SBM will become an organizational member of The Consortium of Social Science Associations (COSSA) on January 1, 2008. COSSA is an advocacy organization that promotes attention to and Federal funding for the social and behavioral sciences. It serves as a bridge between the academic research community and the Washington policymaking community. Its members consist of more than 100 professional associations, scientific societies, universities, and research centers and institutes. The decision to join COSSA was based on SBM's desire to support lobbying efforts for the funding of behavioral and social science research without violating its 501(c)(3) tax exempt status and to keep members apprised of activities occurring at the federal level in support of behavioral and social science research. Read more >>

Anticipating Annals
This column lists the table of contents for an upcoming issue of SBM's journal: Annals of Behavioral Medicine. I would like to thank Alan Christensen, PhD, the Editor of Annals, and his staff for providing this information.
Cheryl Albright, PhD, MPH, Outlook Editor Read more >>

Professional Partnering with A Commercial Company
Denise Martz, PhD
When I earned my PhD in Clinical Health Psychology in 1994, I never imagined I would one day be talking about my research on the Today Show. My research collaborations with SlimFastTM and the related media activities that have occurred over the past year have given me a new appreciation for how we as healthcare providers and scientists need to have a strong voice in the public eye. Consumers need exposure to alternatives of pharmacological and surgical procedures for illness in a manner that empowers them for increased personal behavioral responsibility for their health and as wise consumers of the healthcare industry. Read more >>

Spotlight on Education and Training in Behavioral Medicine
The University of Pittsburgh School of Nursing offers clinical and research training programs in a well-ranked University environment. The Dean of the School of Nursing is Jackie Dunbar-Jacob, a nurse/psychologist and Past President of SBM. In addition to traditional undergraduate nursing programs, a number of post-baccalaureate and post-master certificate programs are offered in a variety of areas. Continuing education is also offered for advanced practice nurses and nurse educators. Several graduate programs at the masters and doctoral levels are offered. Notably, U.S. News and World Report ranks the graduate program 7th "Among America's Best Graduate Schools." This large School of Nursing has 80 full time faculty and is adjacent to the University of Pittsburgh Medical Center. The School of Nursing is also highly ranked with regard to research funding from the National Institutes of Health (NIH). Read more >>

COLUMN
Outlook on Life
Editor's note: This column has questions similar to the ones asked by James Lipton on the TV show, "Inside the Actor's Studio." I have "adapted" his questions to address issues in our field, and I think these questions are a nice way to "feature" a SBM member in the newsletter. Featured is: Dr. Frank Penedo, PhD, University of Miami, Coral Gables, Florida. Read more >>

How are we doing? Arguments for Practice-Based Evidence
David C. Mohr, PhD
In past years there have been increasing calls for evidence based practice (EBP) in the fields of medicine, psychology, social work, nursing, and many other healthcare professions¹. If calls for EBP have spanned the breadth of healthcare, so too have the arguments against it. Clinicians often perceive researchers as out of touch with the realities and nuances of clinical practice, unsympathetic to the human dimensions of clinical care, disrespectful of the value and importance of clinical judgment, and often as just plain arrogant. Clinical researchers often perceive practitioners as underinformed and in need of guidance from the empirical evidence base. It might seem that EBP would only aggravate these tensions. But I suspect there may also be opportunities here to create bridges that will permit understanding across the research-practice divide. Read more >>

OBSSR Director Dr. David Abrams Receives Joseph W. Cullen Memorial Award
In recognition of his contributions to the field of tobacco research, David Abrams, PhD, director of the Office of Behavioral and Social Sciences Research (OBSSR), in the Office of the Director, at the National Institutes of Health (NIH), is the recipient of the 2008 Joseph W. Cullen Memorial Award from the American Society for Preventive Oncology (ASPO). Since his arrival in 2005, he has led OBSSR in its mission to stimulate and coordinate behavioral and social sciences research throughout NIH with the ultimate goal of improving our nation's health. Read more >>
YOU COULD WIN $50 - TELL US - "Why are YOU a member of SBM?"
We want to hear WHY you became (and continue to be) a member of SBM. In 150 words or less tell us when you first joined SBM, why you first joined SBM, and/or what being a member for many years has meant to you professionally or personally. You could win $50 discount on the SBM conference registration for the March meeting in San Diego.

Please submit your short description (150 words or less) and send it to David Wood (dwood@sbm.org) by February 1, 2008. The winner's entry will be published in the next issue of Outlook. Entries that include humor and creativity are strongly encouraged.

Lora Burke, PhD, SBM Membership Chair
Classified Advertising
Deadline and Rates
To advertise in the Spring/Summer 2008 edition of Outlook (which will be available in June 2008), please supply ad copy to the SBM National Office. Artwork, including company logos, will not be accepted. Please contact the National Office for additional information.
The deadline for receipt of ad copy is April 28, 2008. Advertising is billed at a rate of $10 per line based on Outlook's final layout.
Contact:
David Wood, Associate Director, Member Services
Society of Behavioral Medicine
555 East Wells Street, Suite 1100
Milwaukee, WI 53202-3823
Phone: (414) 918-3156
Fax: (414) 276-3349
E-mail: dwood@sbm.org
Officers
Peter G. Kaufmann, PhD, President
Bonnie Spring, PhD, President-Elect
Edwin B. Fisher, PhD, Past-President
Susan M. Czajkowski, PhD, Secretary-Treasurer
Jasjit S. Ahluwalia, MD, MPH, MS, Member Delegate
Amanda L. Graham, PhD, Member Delegate
Felicia Hill-Briggs, PhD, Member Delegate

Council Chairs
Katharine Stewart, MPH, PhD, Chair,
Phillip Brantley, PhD, Co-Chair,
Education, Training & Career Development
Lora E. Burke, PhD, Membership
Kenneth Freedland, PhD, Chair,
William Gerin, PhD, Co-Chair,
Publications & Communications
Richard W. Seidel, PhD, Chair,
Susan Woods, MD, MPH, Co-Chair,
Professional & Scientific Liaison
Jennifer Steel, PhD, Chair,
Barbara Resnick, PhD, CRNP, Co-Chair,
SIG Council
Committee Chairs
Alan J. Christensen, PhD, Editor, Annals
Karen Matthews, PhD, Awards
Linda C. Baumann, PhD, RN, Development
David Mohr, PhD,
Evidence-Based Behavioral Medicine
Kenneth A. Wallston, PhD, Finance
Prabhu Ponkshe, MA, LLB, Health Policy
Edwin B. Fisher, PhD, Nominating
Cheryl L. Albright, PhD, MPH, Editor, Outlook
Amanda L. Graham, PhD, Associate Editor,
Outlook
Frank Penedo, PhD, Program Chair,
Sherry Pagoto, PhD, Program Co-Chair,
Program Committee
Kathleen Goggin, PhD, Program Oversight
Ronald Abeles, PhD, NIH Liaison
Robert Kaplan, PhD, Chair, Wisdom Council
Judith Ockene, PhD, MEd, Co-Chair, Wisdom Council