Oral Presentation Guidelines
Preparing Your Presentation
SBM requires all speakers to:
Prepare slides in Microsoft PowerPoint.
Be certain slides are formatted for electronic projection. To do so, click "File" on the menu bar, then "Page Setup." Size your slides for "Onscreen Show."
Name your file with Western alpha-numeric characters. Do not use characters that incorporate a dash, dot, or backslash as part of the name (i.e., ά or ϋ or / or \ or – or).
Place all audio and video clips linked within the presentation into a single file folder. Video files should be AVI QuickTime or MPEG1, not MPEG2.
If a presentation uses fonts other than the basic Windows fonts please copy these fonts into a folder along with the presentation. You will find these fonts located at C:\Windows\Fonts. (The fonts will have .tff as their file extension.)
Speakers should follow these style guidelines:
Each slide should illustrate one major idea; content should be clearly visible to everyone in the audience, including those in the back of the room.
Keep the graphics and layout simple, with plenty of open space.
Use san serif typeface such as Arial or Helvetica.
Use color for emphasis only; use colors consistently.
It is expected that the content or format of continuing education (CD) activities and related materials will promote improvements or quality in healthcare and not a specific proprietary business interest of a commercial interest. Therefore, during your presentation, please adhere to the following three important points:
CE must give a balanced view of therapeutic options. Use of generic names will contribute to this impartiality. Avoid the use of trade names if at all possible. If your CE educational material or content includes trade names, trade names from several companies should be used where available rather than trade names from a single company.
To ensure the best interests of the public, it is important to utilize and reference the best available evidence when preparing your presentation.
No advertising is allowed on any slides or materials. Remove company names from slides and materials, for example, if they run along the bottom of a slide. Only direct references to the data being shown may run along the bottom of the slides.
Your presentation should also be compliant with the CE content validation statements:
All recommendations involving clinical medicine in a CE activity are based on evidence that is accepted within the profession as adequate justification for their indications and contraindications in the care of patients.
All scientific research referred to, reported, or used in CE in support or justification of a patient care recommendation conforms to the generally accepted standards of experimental design, data collection, and analysis.
Important presentation preparation items to note:
Mac Adapters- There are many different types of Mac adapters, so it is recommended that presenters bring the appropriate Mac adapters with them. Our a/v vendor currently uses VGA as their standard connection to projectors, so a Mac to VGA is best. The a/v vendor does have a few of them in inventory, but it is best if presenters bring their own.
Imbedded Videos- If you plan on having a video imbedded in a Power Point presentation it is very important that you turn your presentation in to the speaker check-in room (Burgundy – next to the Registration Desk) the recommended four hours prior to your presentation to allow the a/v technician(s) to test the presentation and video for accuracy. If you imbed a link to the internet for a video rather than actually imbedding the video in the presentation and are not hooked up to the internet, when you click on that imbedded link during your presentation, it won't go anywhere – we want to avoid this!
Format Ratio- Presenters may have an older presentation that is in a 4:3 format, not 16:9 (wide screen). Any new laptops automatically open in 16:9 and all of the a/v vendor's screens are formatted in 16:9. If a presenter is using 4:3 there will be a black strip along each side of the screen when their presentation is shown (see below).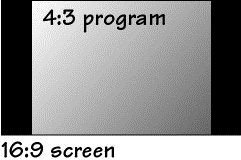 Dropping off Your Presentation
SBM requires all speakers to:
Bring presentations on a CD or USB Thumb Drive. Windows-based computers running PowerPoint for Microsoft will be the meeting standard.
Drop off PowerPoint presentations at the AV check-in room (Burgundy) located directly next to registration no later than 4 hours before your presentation start time. The AV technicians will upload presentations, and they will be ready by presentation time. Please do not plan on loading your presentation onto the laptop in the presentation room; doing so leads to delays.
Symposium Chairs and Presenters: It is recommended, but not required, that you place all presentations into one PowerPoint file. This will allow for easier transfer to the presentation room and will shorten the turnover time in between presentations.
Presentation Arrival Time
Please be sure to arrive at your session room approximately 15 minutes prior to the start of your session.
Paper session presentations are 10 minutes in length followed by 3 minutes of question and answer, then 2 minutes turnaround/preparation time for the next presenter. You may present for 13 minutes, but you will not have time for Q&A.
Symposium presentations are 75 minutes in length. The symposium chair and presenters can determine how long each presenter gets to speak and how much time is allotted at the end of the session for Q&A.
LCD projectors, computers, screens, microphones, and podiums will be available in each session room. Roaming AV technicians and SBM student volunteers will be available outside session rooms for the duration of the session to assist in troubleshooting any issues that may arise.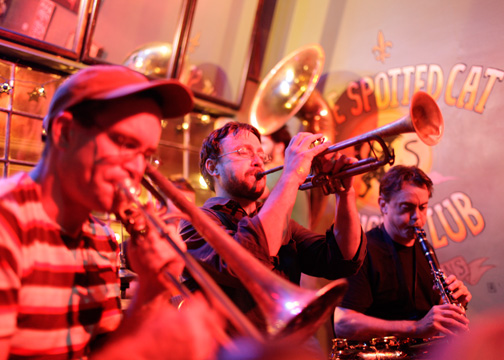 Photo courtesy New Orleans Convention and Visitors Bureau, and photographer Chris Granger.