San Antonio Info
City Guide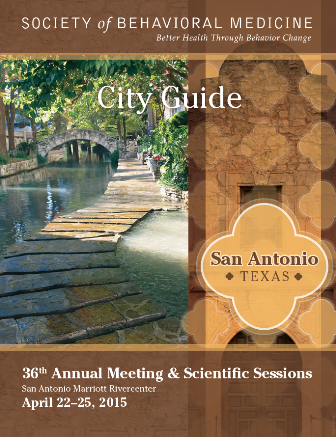 Want to figure out what to see and do in San Antonio when you're not attending Annual Meeting sessions? Need to know how to get around the city?
Then check out SBM's San Antonio City Guide.
2015 Local Arrangements Committee members identified transportation, entertainment, and dining options within San Antonio.
Their recommendations have been compiled in this easy-to-use guide to help meeting attendees navigate the great city of San Antonio as if they're locals.
Visitors Bureau
For more information on San Antonio, check out the San Antonio Convention & Visitors Bureau website.
'Show Us Your Badge' Restaurant and Bar Discounts
The San Antonio Convention & Visitors Bureau partners with downtown San Antonio businesses to offer discounts and special offers to visitors in the city for a meeting. To take advantage, you need only show your SBM Annual Meeting badge. Through the "Show Us Your Badge" program, meeting attendees can receive complimentary appetizers, discounted meals, free desserts, two-for-one admission, and more at about 50 restaurants and nightlife establishments in downtown San Antonio. All you have to do is show employees your meeting badge.
Visit www.bit.ly/SAbadge to see what "Show Us Your Badge" offers are currently available.
Local Arrangements Committee
Special thanks to 2015 Local Arrangements Committee members:
Sarah R. Arvey, PhD, co-chair
Sandi L. Pruitt, PhD, co-chair
Kipling J. Gallion
Heidi A. Hamann, PhD
John C. Moring, PhD
Amelie G. Ramirez, MPH, DrPH