November 16, 2017
SBM 2018 Annual Meeting Program Chair Rachel Shelton, ScD, interviews Joe Smyser, PhD, MSPH, about his career path and lessons learned in extending the reach of behavioral medicine by building public/private partnerships. Dr. Smyser will present a master lecture at the 2018 meeting. He is CEO of The Public Good Projects, a nonprofit that uses the power of mass media to solve social problems. Dr. Smyser has designed marketing strategies for behavior change campaigns managed by the Centers for Disease Control and Prevention and the Food and Drug Administration. He has done similar work with USAID, Google, and the Peace Corps.
View a recording of the webinar.
November 2, 2017
Physical activity is a safe and effective method to reduce negative side effects of treatment and promote better overall health among individuals with chronic diseases. In practice, many difficulties exist for monitoring, assessing, and promoting physical activity. Accelerometer-based consumer wearable devices that track and encourage physical activity may overcome some of these difficulties. This webinar summarizes the potential uses for wearables to monitor and facilitate increased physical activity, provide real-world examples of their use, and discuss challenges and future directions. Lisa Cadmus-Bertram, PhD, assistant professor in the Department of Kinesiology at the University of Wisconsin–Madison; Matthew Buman, PhD, FACSM, associate professor in the School of Nutrition and Health Promotion at Arizona State University; Dori Rosenberg, PhD, MPH, assistant investigator at the Kaiser Permanente Washington Health Research Institute, and Brigid Lynch, PhD, senior research fellow at the Cancer Epidemiology and Intelligence Division of the Cancer Council Victoria in Melbourne, Australia, present on their current work. This webinar is presented by SBM's Physical Activity and Behavioral Informatics and Technology special interest groups. Siobhan Philips, PhD, MPH, co-chair of the Physical Activity Special Interest Group, is moderator.
View a recording of the webinar. Free for SBM members and $15 for non-members.
---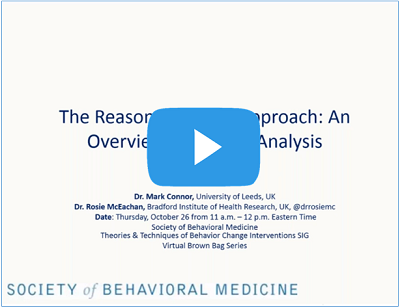 October 26, 2017
The Theory of Reasoned Action/Planned Behavior is one of the most common used theories in health behavior research. The Reasoned Action Approach (RAA)/Integrative Model of Behavior Change is the newest iteration of the model. In this webinar, Dr. Mark Conner describes a meta-analysis his team recently completed using the RAA, and will discuss the implications of his findings. Dr. Rosie McEachan also makes a presentation about how meta-analyses are conducted in the field of health behavior research. She gives insight into what information health behavior researchers should include in their own studies, so they can be included in meta-analyses in their own field. This research illustrates the value of using theory-based approaches in health behavior research, which can work toward accumulating evidence to be translated into practice. This webinar is presented by SBM's Theories and Techniques of Behavior Change Intervention Special Interest Group.
View a recording of the webinar. Free for SBM members and $15 for non-members.
---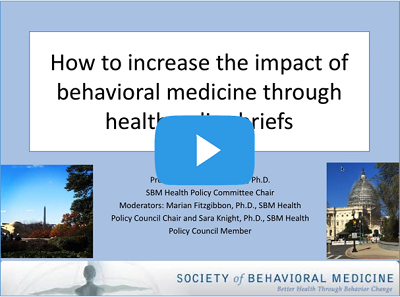 September 29, 2017
How can I use what I've learned from my work to increase my impact on population-level health? How do I take an idea for a health policy brief from conception to publication to Capitol Hill? What are the steps to writing a strong health policy brief? The Society of Behavioral Medicine's (SBM's) Health Policy Committee provides structured and guided opportunities for SBM members and others to increase the impact of their work through the development and dissemination of health policy briefs. Dr. Joanna Buscemi, chair of the Health Policy Committee, will lead a structured hour-long webinar on how to effectively develop, write, and disseminate health policy briefs to increase the impact of your work.>
Topics covered include what is a health policy brief, how do you propose an idea for the brief to the committee, how do you engage other like-minded organizations, how do you write an effective brief, and how is the finalized brief disseminated. The webinar will conclude with a question and answer portion. The webinar will be moderated by Marian Fitzgibbon, PhD, SBM Health Policy Council Chair and past-president; and Sara Knight, PhD, SBM Health Policy Council member.
View a recording of the webinar. Free for SBM members and $15 for non-members.
---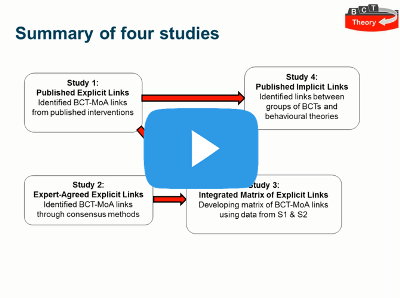 August 22, 2017
Developing effective behavior change interventions requires a deep understanding and ability to link the theoretical bases of an intervention, its components or behavior change techniques, and the mechanisms of action through which it exerts its effects. In this webinar, Dr. Susan Michie describes a methodology for linking behavior change techniques (BCTs) with mechanisms of action (the processes through which they affect behavior), and discusses how this systematic approach to behavioral intervention development can lead to the development of an ontology of behavior change, a foundational step for developing more effective health behavior interventions. Dr. Ben Ainsworth then describes an analysis of data from a trial testing a Web-based intervention aimed at reducing infection transmission in the home, called the PRIMIT trial, that explored the linkage between the intervention's theoretical constructs and specific BCTs. These analyses were useful in determining the effects of specific BCTs and the dose or threshold of engagement required to change behavior.
View a recording of this webinar. Free for SBM members and $15 for non-members.
---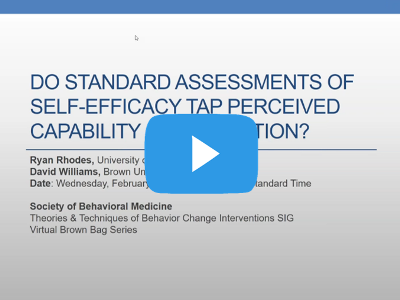 February 22, 2017
Consistent with self-efficacy theory, self-efficacy questionnaires ask respondents to indicate the extent to which they can perform the target behavior. However, for behaviors that are under our volitional control—such as most health-related behaviors—the question of what people can do may serve as an indicator of broad motivation as well as perceived capability. The objective of this presentation was to demonstrate through data from observational, qualitative, and intervention studies that, contrary to self-efficacy theory, self-efficacy ratings are influenced by multiple motivational factors, such as expected outcomes of health behavior, whether one likes or dislikes performing the behavior, and the social implications of the behavior. The implications of these findings are that, as a broad indicator of motivation, ratings of self-efficacy do an excellent job of predicting the target behavior, but a poor job of helping us understand and intervene upon the myriad underlying factors that determine each person's motivation. The webinar discusses potential ways to assess perceived capability independent of motivation.
View a recording of this webinar. Free for SBM members and $15 for non-members.
---
August 12, 2016
National Cancer Institute (NCI) Behavioral Research Program Associate Director Dr. William Klein provided an overview of these exciting new priorities:
View a recording of this webinar. Free for SBM members and non-members.
More information on NCI webinars can be found on the NCI Resources for new Funding Announcements Web page.