SBM advances evidence-based health policy through the publication of policy briefs and position statements, endorsement of letters and position papers authored by like-minded organizations, and yearly visits to legislators' offices on Capitol Hill.

Some of the issues on which these efforts are focused include:
---
Cancer
Position Statement: Increase HPV Vaccination Uptake: An Urgent Opportunity for Cancer Prevention
SBM calls for increased human papillomavirus (HPV) vaccination rates to prevent cancer. The vaccination is recommended for 11- and 12-year-olds. Legislators and health care providers must take action to ensure the vaccine is widely available and used. Legislators should advocate for vaccine insurance coverage and adequate provider reimbursement. Health care providers should treat HPV vaccination as a routine vaccination, and should use culturally appropriate communication strategies to educate patients and parents about the vaccine's importance, effectiveness, and safety. The brief is endorsed by the International Society of Behavioral Medicine.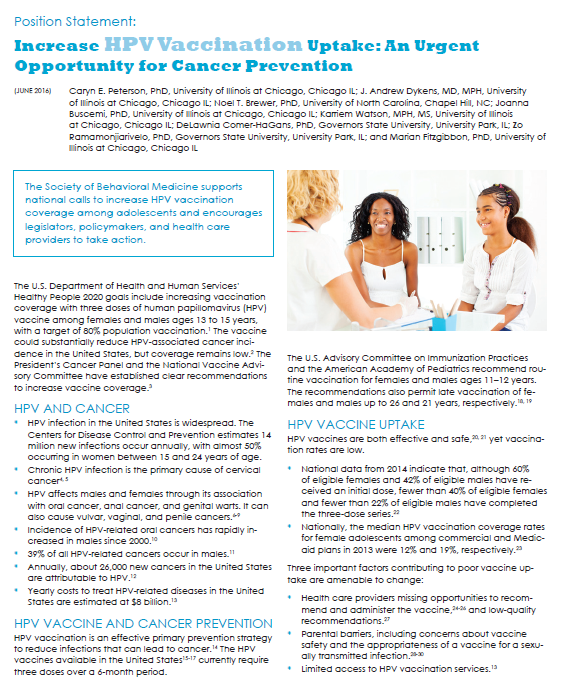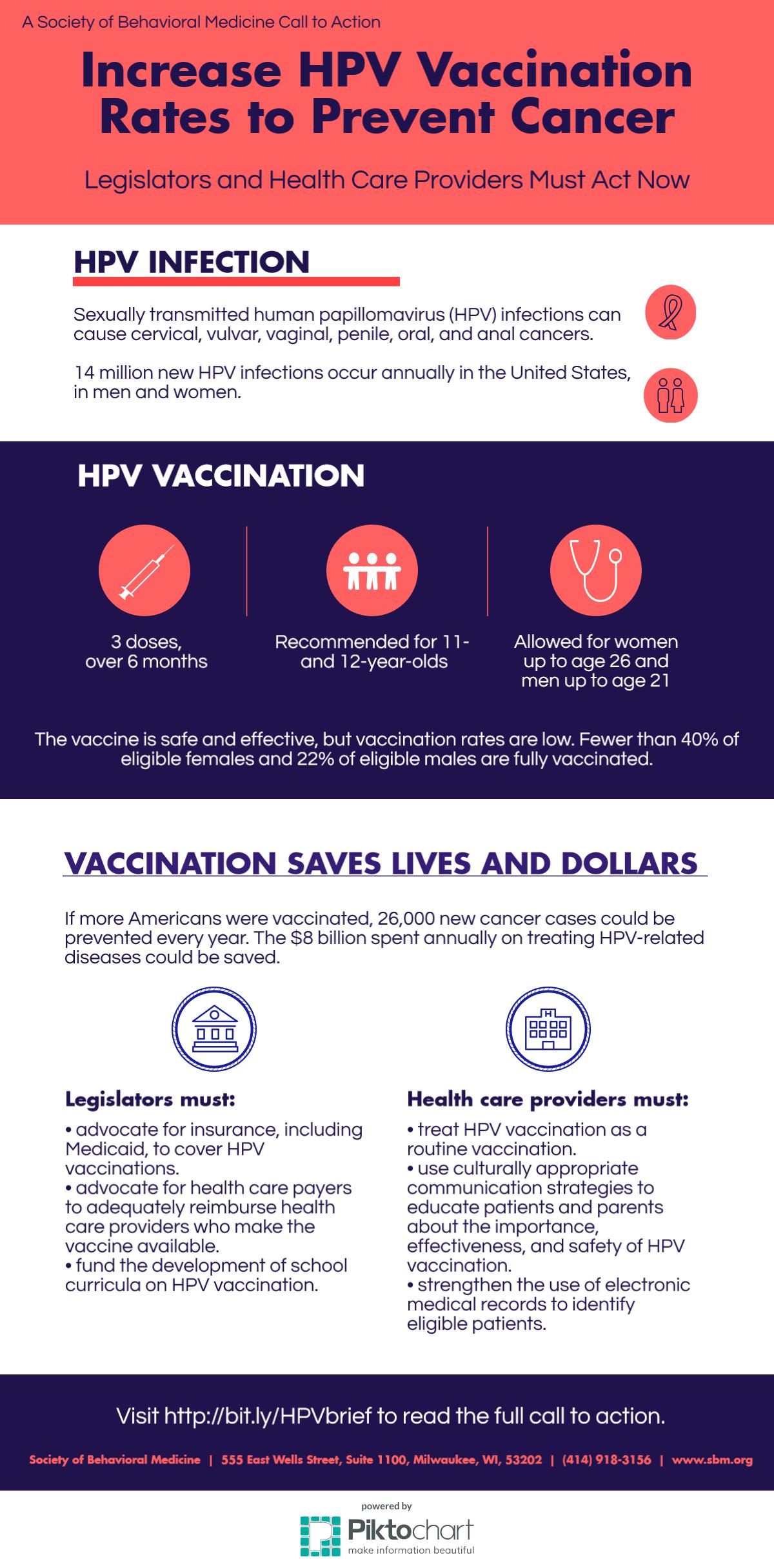 SBM supports a total ban on indoor tanning for minors under the age of 18. Strong evidence links indoor tanning to increased risk for melanoma with repeated exposure during childhood being associated with the greatest increase in risk. Several countries and five U.S. states have passed legislation banning indoor tanning in minors, and SBM strongly encourages the remaining U.S. states to do the same in an effort to protect children and prevent new cases of melanoma.
---
Obesity
SBM supports behavior therapy for obesity being a reimbursable health care service. In 2011, the Centers for Medicare and Medicaid Services (CMS) issued a decision to cover intensive behavior therapy for obesity in the primary care setting. SBM supports that decision but is concerned that aspects of the decision will severely limit the impact of the decision. Concerns focus on the degree to which this care can be feasibly implemented in its current form given the limitations in providers who are covered and the short length of counseling visits relative to evidence-based protocols.
---
Tobacco
SBM supports stronger regulation of electronic nicotine delivery systems (e-cigarettes), incorporation of electronic nicotine delivery systems into clean air policies, and special consideration of product safety standards to protect vulnerable populations.
SBM and the Society for Research on Nicotine & Tobacco (SRNT) welcome the historic June 2011 Food and Drug Administration (FDA) rule on new warning labels for cigarettes. These enhanced health warnings with the quitline number are designed to discourage more nonsmokers from starting to smoke and to encourage more smokers to quit and increase their use of evidence-based tobacco cessation services available at no-cost from state quitlines.
---
Child/Family Health
SBM supports the retention of the current school lunch standards set by the Healthy, Hunger-Free Kids Act of 2010. SBM further recommends that schools promote traditional and innovative nutrition education formats, repeatedly encourage the consumption of healthful foods, and make small environmental changes in lunchrooms to make more healthful eating accessible, attractive, and normative.
SBM recommends that early care and education settings provide healthy foods in age-appropriate portions; increase physical activity during childcare hours to as close to 120 minutes per day as possible; decrease sedentary behavior to no more than 30 minutes at a time; and decrease entertainment screen time in childcare to less than 30 minutes weekly.
---
Health Research Funding
On October 8, 2015, SBM sent a letter to the U.S. House of Representatives Budget Committee, urging them not to eliminate or reduce funding for the Prevention and Public Health Fund. The fund is critical for public health and disease prevention. SBM is joined by other organizations that wrote letters and support this important fund.
SBM State Profiles: How does the NIH and Prevention Fund benefit your state?
In March 2015, SBM joined other organizations in signing on to a letter in support of expanding the National Institutes of Health (NIH) Common Fund to include physical activity and exercise biology research.